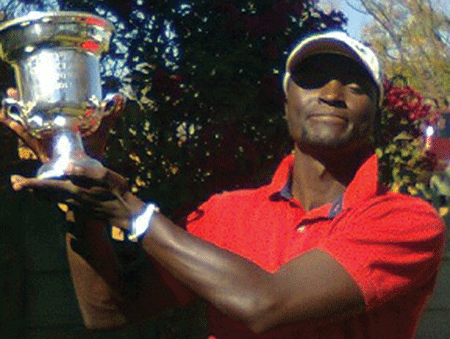 BULAWAYO professional golfer Brian Gondo says he is hoping to improve his game this year after sustaining a hand injury in the Africa Open Championships in South Africa in 2013 that had an impact on his performance.
SUKOLUHLE MTHETHWA SPORTS REPORTER Gondo had been in good form winning several tournaments in 2012, but the injury in early 2013 affected him.
He was ordered by the doctor to stay off the club for three months and missed most major tournaments  that year and last  year while  recovering.
Southern Eye Sport spoke to  the Bulawayo Golf Club professional on his plans for this year.
"The hand injury affected me because I had to miss most tournaments. I have fully recovered so I am hoping to go back to the  way I was before the injury. I need to win a couple of tournaments this year.
"I had to see a psychologist  because I was beginning to doubt myself. I only played a few tournaments because I did not want to strain my hand," he said.
Gondo said he is preparing for his first of the year.
"I am practising in preparation for tournaments which are coming up. My first tournament would be the Zimbabwe Open that will be played in April. Two weeks later I will play in my first tournament outside the country this year, the Zambia Open. I have started preparing for those two competitions," he  said.
In October 2012, he won the Hwange Open Tournament in the coal mining town before he emerged winner  a month later in the Joshua  Mqabuko Invitational at Bulawayo Country Club.
Last year, he was the runner-up in the Hwange Open. On completion of the 54 holes both Gondo and Nethunzwi Musiwalo finished on one over par and proceeded to the sudden death play-off on hole number five.
Musiwalo of Mooderfontein Golf Club in South Africa won the Hwange Open.
According to Zambezi Tours, Gondo proceeded to place his second shot in the greenside bunker. From the bunker, he left his ball approximately a metre from the hole and was waiting to make par.
The match was, however, sealed as Musiwalo proceeded to putt a birdie from about three metres.