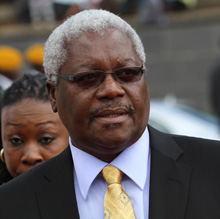 THE Local Government, Public Works and National Housing ministry has introduced a performance-based mechanism, setting aside the conventional approach of effecting blanket approval of councillors' allowances.
PRIVILEGE SHOKO OWN CORRESPONDENT Local authorities had requested the minister to shed light on councillor welfare issues.
Speaking at the 73rd Urban Councils Association of Zimbabwe annual general meeting attended by mayors, town clerks, chief executive officers from the country's towns and cities at Bulawayo Holiday Inn on Friday, Local Government minister Ignatious Chombo said the welfare of councillors would be looked at by his ministry and the individual local authority concerned.
"The review of councillor's allowance shall be conditional upon the viability and performance of individual councils," he said.
"This new approach is in keeping with the integrated result-based management ethos that the government has adopted in the past."
Chombo said the new approach stated that those local authorities who perform highly would be rewarded accordingly.
He said performance reviews of local authorities would be carried out biannually following which appropriate decisions would be made.
"Mayors, council chairpersons and councillors should exercise effective leadership in your councils and you need to be sensitive and alive to the national socioeconomic environment in which your councils operate," Chombo said.
"As civic leaders you are required to prioritise the interests of residents and ratepayers ahead of your own."
Chombo said he hoped all local authorities would focus on few high impact service deliveries so as to optimise dividends from the investment of limited resources at their disposal.
"In keeping with our ZimAsset agenda, the key focus should be on road maintenance, public lighting, water supply and solid waste management," he said.
Chombo advised local authorities to pay their employees' salaries and remit pensions.
"I am aware that most local authorities are lagging behind in payment of salaries to your employees and statutory obligations to various bodies," he said.
"This is causing widespread demoralisation of staff, while pensioners are becoming destitute and this is seriously undermining the credibility of local authorities."