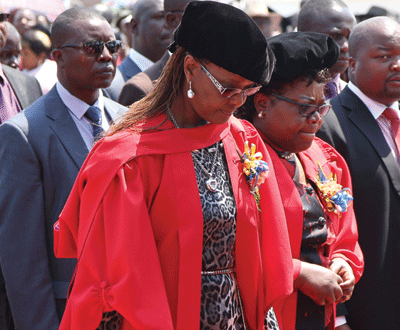 MOST of the thousands of students churned out of the country's tertiary institutions are half-baked and do not have the requisite industrial skills required of them, a top government official has said.
VENERANDA LANGA SENIOR PARLIAMENTARY REPORTER
Higher and Tertiary Education deputy minister Godfrey Gandawa admitted in Parliament on Wednesday while responding to Mberengwa East MP Makhosini Hlongwane (Zanu PF) who had asked if Zimbabwe was producing graduates who were relevant to the economy and industry.
Gandawa told the National Assembly that as a result of shortage of industrial skills, the government would soon embark on a skills audit to identify the gaps lacking in the higher education curriculum.
"It is true that the graduates from our institutions of higher learning lack in certain skills that are demanded by industry," he said.
"As a ministry we have embarked on a programme, through the Manpower Advisory Council, which is represented by members of industry so that we get to understand the gaps in our curriculum and particular skills lacking in industry."
Gandawa blamed universities and other institutions of higher learning for leaving out skills training while concentrating on commercial programmes.
Zimbabwe's university education system came under international spotlight after First Lady Grace Mugabe graduated with a PhD last year.
Reports claimed she had only been enrolled with the University of Zimbabwe for only three months before her graduation, while others claimed her master's research had been upgraded to a doctorate because it was exceptional.
Meanwhile, MDC-T MPs challenged Zanu PF to desist from holding its politburo meetings on Wednesdays to allow Cabinet ministers to attend Parliament and take questions from MPs.
This followed the absence of several ministers, including leader of the House and Vice-President Emmerson Mnangagwa from the National Assembly for the question-and-answer sessions as they were attending a politburo meeting.
"Look at the front bench, we are unable to raise questions because ministers are at a politburo meeting," Mbizo MP Settlement Chikwinya told the Speaker.
"It is contempt of Parliament for people not to come to Parliament."