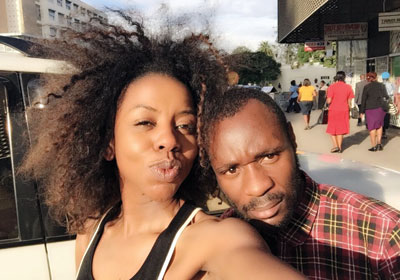 HOLLYWOOD-BASED Zimbabwean make-up artist Jackie Mgido jetted into Bulawayo on Wednesday in preparation for the launch of her cosmetic products Vault at clothing store Truworths tomorrow.
NONHLANHLA SIBANDA OWN CORRESPONDENT
Speaking to Southern Eye Lifestyle yesterday, Mgido said she was elated to be in Bulawayo and was hoping everything would go according to plan.
"I have some guys whom I trained  coming down from Harare today to assist as we lay tables at Truworths," she said.
"They have been amazing as they gave us half of the store to use for our activities. Gilmore Moyo will be in charge of designing the place.
"I have my fears though; no one  knows the brand Vault in Bulawayo, but I am hoping people will come in their numbers and support as they did for our first launch in Harare last year in April, which was really great.
Mgido added: "I have a couple of people who offered their services. I was approached by Moyo and Mbo Mahocs, who are going to be hosting with Dillish Mathews. 3D events has been amazing as they are helping in organising the event.
"JC Le Roux has provided us with a lot of wine. A young group of energetic guys, House of Rock, offered to take care of marketing and all these posters you see around town where designed by them.
"What is amazing is no one is asking for money, they are all offering their services for free. On the day of the launch, ladies will enjoy free makeovers, pedicure and manicure and massages with any purchase. We will also include a photo booth where people will take pictures and also drink wine."
Vault Cosmetics has offered to sponsor the recording of Bulawayo's hip-hop artiste Calvin "Cal-Vin" Nhliziyo Zikhuphani video shoot. "Today we will be focusing on Cal-Vin's video shoot," Mgido said.
"The young man is talented and we want to invest in that talent. The shoot will take place today and tomorrow. We are struggling to get dancers who understand that it's not all about sexuality, but I am sure everything will turn out great."
Cal-Vin told Southern Eye Lifestyle that he was humbled and grateful for the offer.
"I am really excited and humbled by what Jackie did for me," he said.
"She saw something in me and believed in me even though she did not understand some of my songs. I feel like my music knows no boundaries and I believe after this door that Jackie has opened, there will be unlimited opportunities."
Zambia's former Big Brother Africa : The Chase star Clementine "Cleo" Mulenga will also be present at the launch.
Preparation are on course for the after-party at Horizon Bar and Restaurant where Harare rapper and songwriter Tendai Nguni, better known by his stage name Tehn Diamond, will perform.