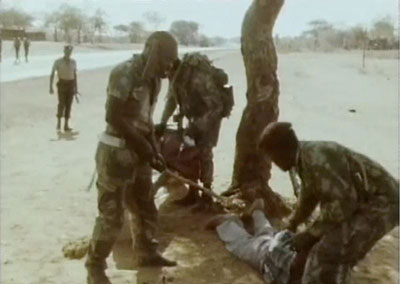 BULAWAYO-BASED civic organisation Ibhetshu Likazulu has approached the courts to compel the police to allow the group to hold a commemoration for victims of the Gukurahundi genocide.
Richard Muponde Senior Reporter Police on Saturday barred the holding of the commemorations by the group, which were scheduled to be held at Stanley Hall, Makokoba, arguing that the event might cause public disorder.
The event was supposed to be held from 9am, but police details were deployed to the venue as early as 7am to seal it off and prevent people from getting in.
However, the group's secretary-general Mbuso Fuzwayo yesterday said they were unfazed by the police ban and were determined to hold the commemorations with the court's permission.
"We are preparing the papers to seek an interdict against the police so that they stop interfering with our programme," he said.
"I will be checking with our lawyers to see how far they have gone with the court papers. If everything goes according to plan, we will file the papers before weekend."
Police have routinely barred any commemoration of the 1980s genocide in which an estimated 20 000 people are reported to have been killed in Matabeleland and the Midlands.
Fuzwayo said they were determined to hold the commemorations despite being blocked by the police.
The event, which has been foiled for the third time, is meant to take place annually.
Last year, former Roman Catholic Church's Bulawayo arch-diocese bishop Pius Ncube challenged the police who blocked the January memorial service for failing to respect freedom of expression.
"The commemorations are held every year on January 20 as we believe Gukurahundi started around that time of the year," Fuzwayo said.
"This year's event will be running under the theme '29 years of Gukurahundi National Discourse'."
President Robert Mugabe's successive governments have ignored demands for compensation of Gukuruhandi victims and the reburial of those whose remains were dumped at mass graves across the provinces.
Mugabe has described the massacres as a moment of madness, while a columnist in The Herald, believed to be the president's spokesperson, George Charamba, has contemptuously referred to the killings as a myth.