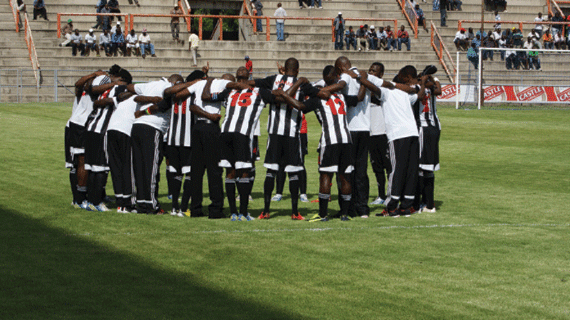 HIGHLANDERS play Chapungu this Sunday at Barbourfields Stadium in a friendly match with the team's officials saying no complimentary tickets will be given as everyone has to pay.
Sports Correspondent
Tickets have been pegged at $2 for rest of the ground, $3 for the wings and $5 for the VIP area.
The friendly will be held after the club's elections which will be held at Highlanders Club House in the morning.
Chief executive officer Ndumiso Gumede confirmed that no official or former player would be given preferential treatment as they were trying to fundraise.
"There will be no complimentary admission or tickets," he said.
"We are trying to fundraise and everyone has to pay, especially the former players and administrators because they have to assist the current players."
Auditors at the Highlanders annual general meeting last Sunday announced that the club made a net loss of $65 657, resulting in a cumulative loss of $651 901.
Highlanders' sponsorship was cut by 43% by their financial backers BancABC and they will be sponsored to the tune of $400 000 this season.
"Everyone knows that we have which we are trying to reduce and we are trying to raise funds," Gumede said.
"The league starts on March 7 and that is when the complimentary tickets will start."
Gumede said this season they would make use of volunteers to man the turnstile as they take a leaf from the Region 5 Under-20 Youth Games.
"We are introducing people who know the spirit of volunteerism," he said.
"We are trying to reduce game day costs and we will be making use of people who will not be expecting to be paid at the end of the match. Most of them were at the Youth Games and will be wearing their yellow colours."
The former Zifa boss said they would be playing the match at their traditional home ground and were appealing to supporters to desist from violence.
"We are going back to our traditional home ground, to an improved stadium and we were asked by the Bulawayo City Council to urge supporters to desist from violence," he said.
"At the meeting members were moaning over the amount the club had to pay for indiscipline and I, Ndumiso Emmanuel Gumede, am appealing to our supporters to end the season without crowd trouble. Let us be an example to other clubs. If they hit us on this cheek, we turn and give them the other. We can do it and finish the season without paying a fine."
He said coach Bongani Mafu had promised the supporters and the executive that this season would be different from the last.
"The coach indicated that he does not want players to be idle, therefore, before each game we are bringing back the curtain-raisers," he said.
"This weekend Highlanders will play Ntabazinduna select."
Gumede said players from Ntabazinduna were part of their outreach programme which they run together with Orap Zimbabwe.