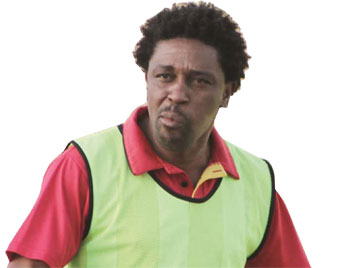 BANTU Rovers owner Methembe Ndlovu has stepped down as the Grassroot Soccer Zimbabwe (GRSZ) managing director (MD) after almost a decade in charge. THANDIWE MOYO SPORTS CORRESPONDENT
Former financial manager at the GRSZ, Bhekimpilo Moyo, will take over in an acting capacity, until a substantive boss is appointed.
Ndlovu will remain as a non-executive director of the non-governmental organisation.
He is one of the founding members of GRSZ and is a director at former Castle Lager Premier Soccer League side Bantu Rovers.
"Grassroot Soccer will always be in my blood as I am one of the founders," said the former Warriors and Highlanders player.
"I will still be involved as a non-executive director and I will still support the team that will be doing the day to day work.
"This will free some time to concentrate on other projects that I am involved in, especially Bantu Rovers. I will be concentrating on Bantu Rovers, particularly the youth development. I will be working with our junior teams. I think I will spend more time with my children as well. I have been too busy to be spending time with them."
He has been managing director of GRSZ, a non-profit organisation that uses the power of football inspire, educate and mobilise communities against the spread of HIV since 2005.
"I am proud of what we have achieved since I took over as managing director in 2005," he said.
"This seemed like the right time to hand over to Bhekimpilo Moyo who is going to be acting managing director until a substantive director is confirmed."
Ndlovu said he would be assisting at the organisation.
"In the meantime I will be assisting, but from a distance," he said.
"I will take a role as a non-executive director as well as one of the founders at Grassroot Soccer. I will always be very close to the organisation. I feel I have a capable team that will take the organisation forward after nearly 10 years. It is the right time for fresh leadership and new ideas. I am proud of what we have accomplished, but there is still a lot more that still needs to be done."
The organisation targets in and out-of-school youths who go through a programme that teaches them life skills on prevention of the spread of HIV and Aids.
"When I started in 2005, we were seeing about 2 000 children a year," he said.
"In 2014 we saw 12 500 children. The more our community has access to the programmes that we have the better. It is not all about numbers or getting children through the programme. We have diversified it in terms of the type of programmes that we offer. We have a lot of programmes for boys, girls, men and today (Saturday) we were here doing a cancer screening programme designed for women."
On Saturday, GRSZ held an outreach programme on cervical cancer screening at the Bulawayo football For Hope Centre in Gwabalanda.
Women were provided with information on cervical cancer and referrals for screening which is done at the New Start Centres.
"We have tried as much as we can to reflect the needs of our community and try and link our community members to important health services," Ndlovu said.
"In the years that have passed, we have added more programmes. I know we cannot be everything, but in terms of youth education and mobilisation, we have grown in leaps and bounds."
On Bantu Rovers' 2015 season he said: "It still early days, but you know with Bantu we are always giving players opportunities. This year we have some new stars for the future we will be working with. We have some experienced players who will be providing guidance and leadership to the young  players. We always say we will finish where we belong. Our challenge and goal is not to win everything, but it is to be the best that we can be and this year will be no different."