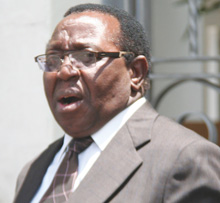 ZANU PF spokesman Simon Khaya Moyo faces a fresh threat to his political career after a group of disgruntled Matabeleland South party members reportedly started circulating a petition for his ouster from the central committee.
Albert Ncube Own Correspondent
Moyo had seemingly survived a purge of party members loyal to ousted Vice-President Joice Mujuru, but the latest twist could be a threat to his floundering political career.
Zanu PF's national political commissar Saviour Kasukuwere on Friday was told of the tension and cheating within Matabeleland South provincial structures, with reports some war veterans wanted Moyo's election into the central committee reversed.
Baton-wielding cops monitored the meeting that was attended by senior police officers, among them, the officer commanding Matabeleland South, Assistant Commissioner Goodwill Musariri.
Kasukuwere, who is on a countrywide tour of Zanu PF structures and was accompanied by Moyo, warned the party to guard against divisions.
"We lost direction towards congress, but now it is time to take stock," he said.
"I come with the message of peace, unity and development."
However, some members of the party said they were not yet ready to forgive those who challenged their nominations to the central committee.
"I understand that you come with a message of peace and unity, but how do we work with those that are challenging our election into the central committee?" Mafesi Ncube of Mangwe district asked.
"The local MP (Obedingwa Mnguni), working with some war veterans, has sent a petition to you challenging the election of Simon Khaya Moyo and myself saying it was unprocedural. How then do we work with such people?"
Mnguni, however, later defended himself saying he had only offered the said war veterans transport and had nothing to do with the petition.
Gwanda senator Alma Mkhwebu said she was shocked at congress to find out that her name had been struck off the list of central committee members and replaced with that of the party's provincial administrator (PA) Rennie Kibi.
"I campaigned and was elected into the central committee, but when we got to congress the PA's name was called out," she said.
"Now l have been suspended for no reason."
Kasukuwere said Mkhwebu should put her complaint in writing and the matter would be looked into.