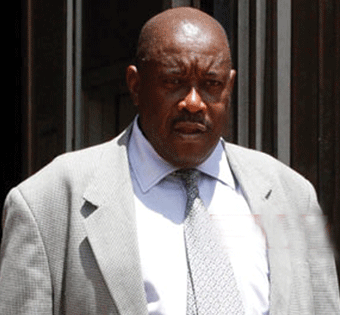 ERNEST "Maphepha" Sibanda wants an explanation on his disqualification from the Highlanders chairmanship race and is demanding that club members, and not the board and nomination court, decide his fate at the annual general meeting on Sunday. THANDIWE MOYO SPORTS CORRESPONDENT
Sibanda was disqualified on Tuesday from the race for not being in good standing with the club, leaving incumbent Peter Dube retained unopposed for another three-year term.
But yesterday, Sibanda made his clearest indications that the fight was far from over and the decision to disqualify him should be made by club members instead.
"I know the nomination court has the final say. There is no appeal, but what I am saying is that I am appealing to the board that could the people say 'Ernest Sibanda, you are not fit to stand for our club', I am going to accept that," he said.
"When we come to something that belongs to the people and where members have a say, I feel I should have been disqualified by the owners of the team. That is my main worry. I know people are saying I should go to the courts, but I say we should not take football to the courts.
"We do not want that. We want us to have that problem solved. Not for me. Yes, they can disqualify me for good, that I never hold any position at Highlanders for the rest of my life. As long as the members say that, I will accept it with dignity," he said.
Sibanda questioned the nomination court's decision to have only three members present instead of the initial six that had been announced.
Only returning officer Jimmy Ncube and Elkanah Dube sat in the electoral court with Luke Mnkandla while judge Justice Nicholas Mathonsi, Dumisani Sandi and Davis Ndumiso Sibanda were absent.
"We are not fighting; we are building our team to go forward. We respect the Highlanders constitution. I was so much disappointed because I feel that a lot of things did not go the way they should have.
I respect our board, but before I was called in, there were only three members and I said how could there be three members when there were six members who were constituted to come and scrutinise my papers?
"I am saying to myself the other three who were absent might have said 'he is innocent, he should go and stand', but only three came in and they disqualified me feeling I was not fit to stand for Highlanders. This brings me back to the question; where were the others?" he said.
He said the board secretary (Ncube) had initially indicated that he was allowed to contest for the post, but in the end disqualified him.
"I feel his statement in the paper was most accurate. If the nomination court is saying I am not fit to stand in as Highlanders chairman they were supposed to take that to the people because the club belongs to the people, the club does not belong to an individual. I always say members and the community have the final say," he said.
Sibanda said what was also confusing was that the executive approached him about three weeks ago and asked him to take up the team manager post, but the board declined.
He said he only decided to stand for the chairmanship post because he wanted to know where he stood at the club.
Sibanda implied that the nomination court could have been compromised when he said: "One week I get that statement from the secretary-general of the board, then the next thing he tells me I am disqualified.
"Before that on Facebook you see the chairman of the committee having a nice braai in Nkayi and he says on Saturday when I had submitted all my papers there were people who we were going to be disqualified.
"When I get there on Monday he starts asking questions when he has already made his decisions. If we are going to have people on our board who are not honest, that would not be fair."
He also cited a post from Southern Eye columnist Dumisani Nyongolo Nkomo who wrote: "Is the returning officer for Bosso elections impartial . . .?
Just the other day he told me point blank in a public place and with the public in full glare that he was the retuning officer and a board member and he did not want some people to contest for office.
Well I am not a paid-up member, but I was so concerned. When I pointed out to him that he was being partial and unobjective he was as impervious as a rock, so I was not surprised that Maphepha was disqualified.
By the way I am not a Maphepha supporter or any person, neither am I really interested in the whole thing, but I am a justice activist – so I think even if the fellow has some sins (Maphepha) it is not proper for presiding officers to show partiality in elections of any kind, even as presiding officer of a dip tank election. In fact, he had no business telling me his personal preferences before an official decision was made."
Sibanda said: "If the chairman of the nomination court says that on a Saturday before I even go to the nomination court, is it fair? I am disappointed. I would have loved to have gone there and lost. You win some, you lose some. If I had lost I would have been the happiest person, but I feel I was not given a fair trial."
Meanwhile, in Wednesday's edition we erroneously stated that Rodger Muhlwa was suspended for misappropriation of funds. It has since been confirmed that he was a chairman of the executive where treasurer Lazarus Sibanda misappropriated $1 700 and that he and Peter Dube suspended the treasurer. We unreservedly apologise to Muhlwa for the error.