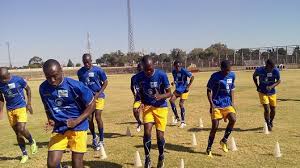 GWERU-BASED Castle Lager Premier Soccer League side Chapungu has pulled all stops to set a vibrant junior policy with the club's leadership recently agreeing to set up an academy.
MUKUDZEI CHINGWERE SPORTS CORRESPONDENT
The club's chief executive officer Levie Mukotekwa confirmed the latest developments at the club, adding that they were determined to make the investment a success.
"We want to set up a vibrant junior policy at the club," he said.
"I believe in the development of sport and we want to make our contribution in sport in Zimbabwe.
"We have already told the board about setting up an academy and they have given us the green light."
The club has recently been linked with well-travelled coach Gishon Ntini, who is being tipped to head the juniors' technical department.
Although club sources said Ntini had already agreed a deal to move to Gweru, Mukotekwa said they were yet to appoint a coach for the developmental side.
"We have not hired anyone as yet," he said.
"We are still looking at names of who can come in. He (Ntini) might come in as well, but we have not yet made a decision on that."
The Air Force of Zimbabwe side has already hired Jairos Tapera as their technical manager to spearhead the club's challenge for honours this season.
Chapungu had a good first half of the season, but struggled in the second round and survived the chop by a whisker, finishing in 12th place, just one spot above the relegation zone with 37 points.
The side was only saved by their superior goal difference over relegated Black Rhinos.