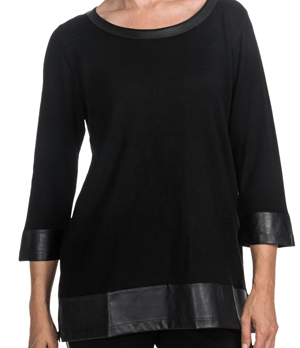 A NEW female fashion craze has taken Bulawayo by storm and is dominating the city's streets and fashion runways.
NONHLANHLA SIBANDA OWN CORRESPONDENT
The pleather apparel, which consists of plastic leather pieces sewn in between cotton and animal print strips to form a collage of dress patterns, seems to be the new fashion statement.
Edgars Carrousel sales marketing executive Peter Mnyama told Southern Eye Lifestyle that although the pleather design has been around since 2013, it only became popular in Zimbabwe in 2014.
"pleather is an industrial term and is what most people call plastic leather. The design is inspired by European catwalks and leather trims are used on collar stands, herm and sleeves etcetera. It has been available for a while in other countries and was only introduced into Zimbabwe recently," Mnyama said.
"Samples of the actual design were taken from the European catwalks and brought back home. Some of the designs may be too fashion-forward for the average person on the street, therefore we tone them down for our target market in Zimbabwe, which is mostly traditional and formal. This is what we have done with the pleather design in our Edgars stores," he said.
Local designer Saneliso Mpofu of Sanah showcased the pleather range at the 2014 Matabeleland Fashion Week and the Intwasa Fashion Show.
"These outfits with leather detail aren't made of real leather, but what is called pleather, faux or rexene, which is artificial. The fabric is intended to substitute for leather in fields such as upholstery, clothing and fabric and other uses where a leather-like finish is required but the actual material is cost prohibitive, unsuitable or unusable for ethical reasons," Mpofu said.
"There is no specific name for the design, but we often call it pleather. Pleather is only added on the shoulders, armholes or pockets as detail. The fashion trend became popular in 2014," she said.
Fashion analyst and 2014 Zimbabwe Fashion Week style icon of the year Craig Zowie said African-inspired prints and textures were also coming through.
"At the moment we are still in the era of java, but the trendsetters are wearing their java the accessories and not full ensembles. We find accessories in java like hand bangles, earrings, clutch bags, etcetera, and men like amulets like the Hamsa bracelet and matte beads than the traditional ones we have seen. A lot of candy striped shirts too in the menswear collections as well as a lot of chevron for both the ladies and gentlemen are the in thing," Zowie said.