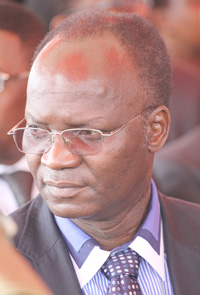 THE Zanu PF Matabeleland North factional fight pitting politburo members Obert Mpofu and Jonathan Moyo will come to a head this Saturday at a provincial co-ordinating committee session called by commissar Saviour Kasukuwere.
Chief Reporter
The meeting is expected to fire provincial chairman Richard Moyo, a staunch Mpofu ally, as the tussle for control of the province reaches a crescendo.
Mpofu and Jonathan Moyo crossed swords late last year, when the Richard Moyo executive unsuccessfully tried to oust Speaker of Parliament Jacob Mudenda from the party.
The abortive attempt to expel Mudenda reportedly led to a harsh exchange between Mpofu and Jonathan Moyo in one politburo meeting.
The clearest indication that all was not well among the Matabeleland North party honchos came 10 days ago, when all politburo members, except Mpofu, failed to attend a meeting organised to celebrate their appointment into the lofty Zanu PF body.
At the celebrations, Mpofu took a subtle dig at Jonathan Moyo, saying some people had failed to win parliamentary seats in their home areas because they lacked respect.
Tellingly, the weekend meeting in Lupane has been called for by Kasukuwere, another of Jonathan Moyo's confidants and this could be ominous for Mpofu and Richard Moyo.
Provincial officials insisted that Kasukuwere was the only person with the agenda and they could not comment on it.
Richard Moyo, who increasingly looks like a lame duck, yesterday told Southern Eye he was not aware what would be discussed during the meeting.
"The meeting is on Saturday and the national commissar (Kasukuwere) is the one with the agenda," he said.
"We don't know what will be discussed and on the issue that he is going to dissolve the executive, I have no idea about that.
"The commissar is the best person to give such information.  All I know is that he is on a nationwide tour of all provinces."
Contacted for comment, Kasukuwere chose to be diplomatic and instead deflected questions instead of answering them.
"What has the executive done to warrant dissolution?" he asked.
"Do you have the agenda?  Wait for Saturday."
Southern Eye learnt that the abortive attempts to recall Small and Medium Enterprises minister Sithembiso Nyoni could be used as a ruse to begin the process of dissolving the executive.
The Matabeleland North executive tried twice to recall Nyoni, but failed and in the end asked her to apologise for describing the executive as shallow.
In what was seen as an attempt to embarrass Nyoni, the executive did not invite her to a party where it was celebrating the appointments of politburo members.
Kasukuwere and Jonathan Moyo are said to be part of a group known as the "gang of four" and have been credited with masterminding former Vice-President Joice Mujuru's coup de grace.
The intensification of factional fights in Matabeleland North, ironically, comes just three months after First Lady Grace Mugabe, the self-appointed fighter of factions, described the provincial executive as the most united in the country.