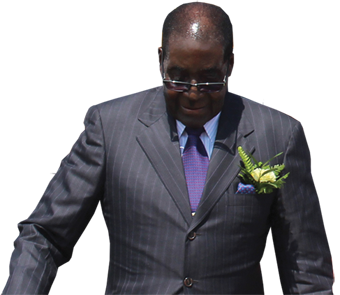 PRESIDENT Robert Mugabe's continued absence in the country has reignited speculation around the ageing leader's health.
Chief Reporter
Mugabe, who turns 91 in a month, left the country on December 14 destined for Asia and scheduled to return on January 15.
Five days after he was due back in the country, there is no official word on when Mugabe is likely to return.
This could be Mugabe's longest stay outside the country in recent years.
Further fuelling speculation around Mugabe's health was his failure to attend the inauguration of Felipe Nyusi, the new Mozambican president, as in the past he has not missed such functions.
Already, Mugabe's diary is filling up as he is scheduled to attend an African Union summit in Ethiopia, Addis Ababa, on January 30 and 31, where he will assume the organisation's chairmanship and a Sadc Troika on Politics, Defence and Security meeting aimed at resolving the political crisis in Lesotho also slated for January.
Commentators yesterday said Mugabe was prolonging his stay hoping that challenges he was facing would have cooled down.
Political commentator Dumisani Nkomo said the nation was being held to ransom due to Mugabe's absence, but said he hoped he was in good health.
"His absence is increasingly becoming worrisome to the nation," he said.
"While we acknowledge that he is entitled to his annual leave, this time he has been away for a long period.
"He changed ministers while on holiday and there is doubt whether the new ministers got proper induction into their portfolios. It is always good for a chief executive officer to personally brief his immediate staff whenever there are new appointments."
Nkomo said Acting President Emmerson Mnangagwa was constitutionally hamstrung, as he could not make binding decisions. Cabinet has not sat for several weeks bringing government business to a standstill.
MDC spokesman Nhlanhla Dube said Mugabe's in-tray was probably ladened with tricky matters and he "would rather deal with the matters in absentia than confronting them head on".
"It's an indication that the president has decided to extend his holiday in the Far East, but conveniently forgetting that he carries the hopes of the nation on his shoulders," he said.
"So, Mugabe would rather extend his holiday, hoping that the situation back home would cool down."
On his return, Mugabe would be faced with escalating chaos within Zanu PF, particularly on how to handle his former Presidential Affairs minister Didymus Mutasa, an imploding economy and strike threats from civil servants.
Mutasa and a host of other sacked Zanu PF members have demanded an explanation from Mugabe on their demise and have since written a letter to him and Sadc.