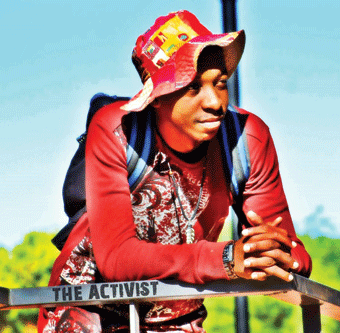 YOUNG author Thuthukani Ndlovu (21) has collaborated with veteran dub poet Albert Nyathi on his anthology of 15 poems titled Poetic Voices that was released online yesterday. NONHLANHLA SIBANDA OWN CORRESPONDENT The book features other poets such as Peter Zoe, better known as The Oracle, Fungai Z Mombeshora, Sanelisiwe Emma Mlilo, Bonlam Machiha, McArthur Jamela from South Africa and one of the pioneers of hip-hop music in Zambia, The Holstar.
Ndlovu said he was elated with the new compilation of poems that would be available for free downloads.
"Poetic Voices will be available for free downloads from the launch date. The book will only be available as an electronic book (in PDF version). The download links will be provided on my Facebook and on my Twitter accounts," Ndlovu told Southern Eye Lifestyle.
Poetic Voices is Ndlovu's third poetry anthology having previously published two anthologies, Radioactive and Realisation, online that were available for free downloads in 2014.
Poems in the Poetic Voices include It all started with one smoke, God addiction, Let your voice be heard and I am a woman, among others. They touch on various themes, including love, womanhood, addictions and God's love.
"I decided to call the anthology Poetic Voices because I wanted to create a platform for voices to be heard – voices that either come directly from the poet's personal experience, or come from a desire to share experiences that someone else might go through in life, but might not be confident enough to share them with the rest of the world, or may lack the platform to share them," Ndlovu said.
"It is an honour and a privilege to have the well-known Nyathi contributing poetry to my anthology. He is a great man whose work has inspired me ever since I started writing poetry and this is just one of the reasons why I look up to him."
Nyathi contributed two poems Life Recipe and Scars in the mirror taken from his anthology Echoes from Zimbabwe published in 2010.
Nyathi said Ndlovu is a talented young man who needed established poets to collaborate with him.
"I saw it fit to help him fulfil his dream. I have been asked by other young writers to endorse them, but have not been satisfied with their works. Thuthukani, on the other hand, is dedicated and shows a lot of commitment. I picked little known poems from my anthology and I believe that one day he will be a great poet," Nyathi said.
Ndlovu is a second-year marketing student at the University of Free State (UFS) in Bloemfontein, South Africa. He started writing poetry at high school and is part of the media and marketing team of an association called TEDxUFS at the UFS.
He is an entertainment blogger and editor of zimlink.org and the manager of a locally-based upcoming rap group called Building Your Origins.