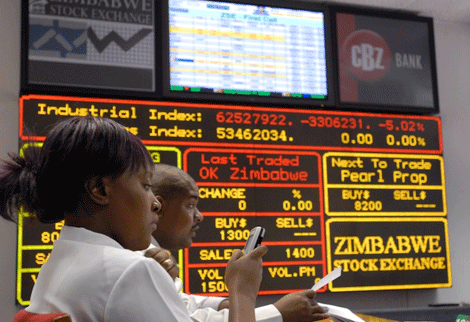 ZIMBABWE'S stocks, the cheapest among African shares, are not a buying opportunity for Investec Asset Management, which says consumers and banks in the Southern African country are continuing to struggle.
"They're some of the cheapest stocks in our universe, but they might remain cheap for a long time," Investec's Joseph Rohm said last Friday.
"There's a liquidity crisis in the Zimbabwean banking sector and the consumer's under pressure."
The Zimbabwe Stock Exchange industrial index tumbled 19% last year to trade at 7,4 times estimated earnings, the lowest among nine primary African indices tracked by Bloomberg.
The country abolished its currency in 2009 as inflation soared following farm seizures in 2000.
While the economy is projected to grow 3,2% this year, according to the International Monetary Fund, the lender warned in November 2014 of low reserves, a large current-account deficit and weak banks.
Political tensions have risen as members of the ruling Zanu PF fight over the succession to President Robert Mugabe. Justice Minister Emmerson Mnangagwa became vice-president last month, putting him in prime position to take over from 90-year-old Mugabe.
"We had a big shift to hardliners within Zanu PF," Rohm said. "That didn't give us comfort."
Investec, which has decreased its Zimbabwe investments in recent years, only holds Econet Wireless, a cellphone operator, and Delta Corporation, which owns brewers and agricultural businesses.
The estimated earnings ratio for Zimbabwe compares with 12 for the securities exchange all share index in Kenya, and 14 for SA's main gauge.
The MSCI frontier markets index trades at 9,2 times earnings. While Zimbabwe's stocks may be lower-valued than peers on the continent, the value is higher than the five-year average of 3,42.
The main gauge rose 1,3% last Thursday and Friday, the biggest two-day rally since November 26 2014. Still, in the past six months, about two stocks fell for every one that gained.
–  Bloomberg