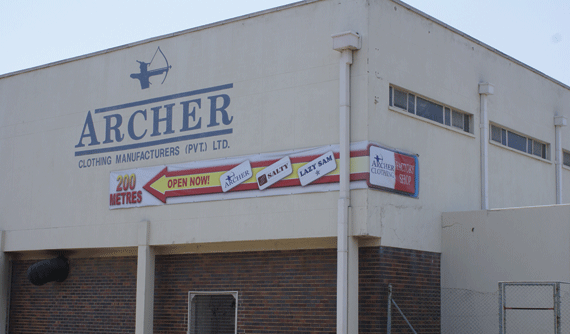 THE Affirmative Action Group (AAG) and trade unions have urged creditors of Archer Clothing Manufacturers to approve the company's take-over by Harare-based Paramount Garments today to save it from liquidation.
MTHANDAZO NYONI OWN CORRESPONDENT
Archer Clothing was given up to this month to conclude the takeover by Paramount or risk being liquidated, throwing more than 200 workers recruited in September 2014 out of work.
The meeting for creditors and members to provide proof of claims as well as voting on the scheme of arrangement would be held at the Bulawayo High Court today.
The meeting comes after a creditors and members' meeting that was set for November 5 2014 failed to take place.
At the first vote in March 2014, 44 out of the 45 creditors approved the Paramount bid, but the one dissenter's objection has delayed the process.
AAG vice-president Sam Ncube said creditors should vote for the deal so that Archer is spared from liquidation.
"It's shocking and mind-bogging to find out that one creditor wants Archer to be liquidated thereby further killing industry in Bulawayo. The government is talking about ZimAsset (the economic blueprint) and resuscitation of industries, but other people are doing otherwise. Who the hell is this creditor who wants to kill the economy? These are the people we call economic saboteurs," Ncube said.
"We will engage the government concerning this issue because we cannot sit and watch such things happening before our eyes. We are very grateful about this company (Paramount) which wants to invest in Bulawayo, so these creditors should think outside the box not to think about themselves," he added.
The Zimbabwe Congress of Trade Unions secretary-general Japheth Moyo weighed in saying the government should intervene by making funds available for companies such as Archer.
"We have been talking about job creation over a period of time and the government should act on this. It should make funds available for the resuscitation of companies such as Archer because we cannot afford to see more than 200 people losing jobs," Moyo said.
Presenting the 2015 national budget in 2014, Finance minister Patrick Chinamasa revealed that since 2011 more than 55 000 workers had lost their jobs.
If creditors of Archer fail to vote for the deal, the number will balloon.
Paramount Garments managing director Jeremy Youmans told Southern Eye Business that today's meeting would be their last hope.
"We believe something good will come out of that meeting," he said.
Paramount Garments has so far committed $2 million in reviving Archer although the deal is yet to be finalised.
The new investor intends employing more than 800 people before the end of this year if the deal sails through.
Archer Clothing needs about $5 million capital injection in the long-term to refurbish property, machinery, cater for human resources and working capital in stocks and debt.
It has been battling operational challenges that saw it being placed under judicial management in 2010 due to lack of working capital before scaling down operations leaving dozens of workers redundant.