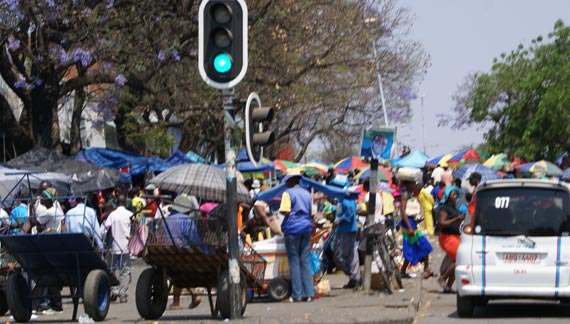 GWERU City Council municipal police yesterday engaged in running battles with illegal vendors in a bid to flash them off the streets, Southern Eye witnessed. STEPHEN CHADENGA OWN CORRESPONDENT
Vendors, who have mushroomed at every corner in the city due to the current economic hardships, could be seen resisting arrest with others hiding their products in street alleys.
Municipal police loaded tomatoes, vegetables and secondhand clothes belonging to vendors into a council vehicle.
Vendors who spoke to this paper said they understood council had bylaws governing the operations of hawkers, but they had no option, as they were looking for school fees for their children.
Schools open today at a time many parents have joined the informal sector because of high unemployment in the country, which some independent economists peg at 83%.
"I have no option, my brother, my kids need school fees tomorrow (today) and uniforms, so I have to sell these secondhand clothes to raise money," Eta Moto, from Mambo suburb said.
"There are few vending sites in town and besides the legal weekend flea market only operates for two days on Saturday and Sunday."
Another vendor James Makanda said he left formal employment two years ago when most companies and industries closed due to operational challenges.
Makanda said city fathers were being insensitive in engaging in running battles with vendors, arguing they should find mechanisms to accommodate people in the ever growing informal sector.
"They are treating the symptoms and not the actual disease. They should instead turn idle pieces of land into more vending sites," he said.
Most cities in the country like Gweru are fast becoming  vending places, as every corner has people selling wares.
Mayor Hamutendi Kombayi said, city fathers, understood the economic hardships plaguing residents, but said there was need for proper conduct in doing business.
He said shop owners who pay rent to council were complaining that illegal vendors were blocking pavements and affecting the smooth movement of customers.
"Economic problems aside, we have to operate within the confines of municipal by-laws," Kombayi said.