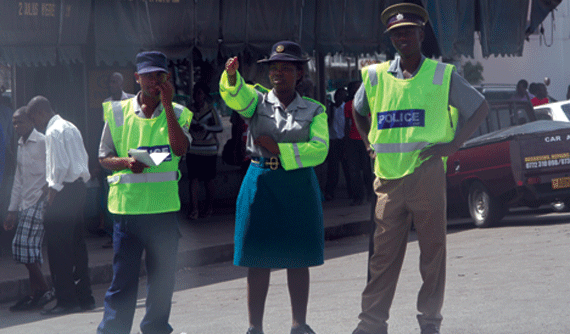 THE Zimbabwe Republic Police (ZRP) has launched a blitz on motorists in Bulawayo in search of valid radio licences, hardly a week after the expiry of last year's disc.
Mamelo Nkomo Own Correspondent
Car radio licences expired on December 31 2014, but police yesterday mounted several road blocks on roads leading to the city centre demanding Zimbabwe Broadcasting Corporation (ZBC) licences for 2015 in the absence of personnel from the broadcaster.
Under the Constitution police have a right to demand a listener's licence, but not to demand spot fines on behalf of ZBC.
But yesterday police were ticketing and demanding spot fines, much to the chagrin of most motorists, who pointed out that spot fines were illegal and breach of certain sections of the Constitution.
There were long queues along Khami Road and Luveve Road, among other major roads leading to the city centre yesterday morning, as police demanded valid licences, greatly inconveniencing workers rushing to work.
"I was slapped with a $20 spot fine for failing to display a valid car radio licence," Emmanuel Ndlovu, a motorist said. "I then went to Zinara (Zimbabwe National Road Administration) and I was told that licences for 2015 had not yet been produced."
Most motorists begrudgingly paid the spots fine before being advised to go to Zinara to buy the car radio licences, yet they were not available.
Contacted for comment Zinara spokesman, Augustine Moyo, promised to give fuller details on the matter, but had not done so by late yesterday evening.
Harare West legislator, Jessie Majome, who has approached the Constitutional Court challenging the payment of radio and television licences to ZBC, accused police details at roadblocks of causing unnecessary delays, saying it was not their mandate to be demanding spot fines on behalf of the public broadcaster.
"It is unlawful and unconstitutional for police to be checking radio licences," she said.
"This is unreasonable and unjustified in democratic society."
The lawmaker said spot fines were illegal and motorists are supposed to be issued tickets to produce radio licences and if they failed, they were to be summoned to court.
Majome challenged the constitutional provisions of Section 38 of the Broadcasting Services Act last year. She later filed a Constitutional Court application to force the State broadcaster to encrypt its signal so that it is only received by those who wish to associate with its biased programming, arguing that it infringed her rights.