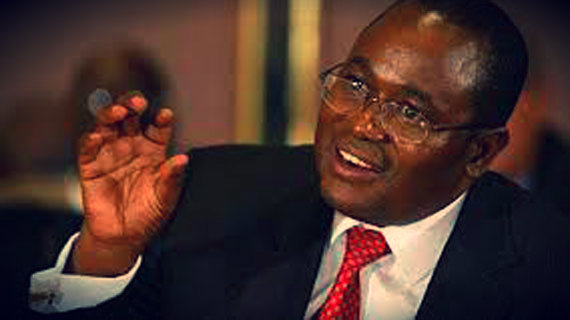 FORMER Reserve Bank of Zimbabwe governor Gideon Gono claims his political enemies have capitalised on reports that he owned vast tracts of land in Bulawayo and have dispatched people to his rural Buhera village to claim he was corrupt.
Chief Reporter
In a statement, Gono said a section of society outside Bulawayo became excited at what they thought was a revelation of his corrupt activities.
"A certain section of society outside Bulawayo was already excited about this Gono corruption . . . of owning vast tracts of land, when others do not have half an acre to build their houses . . . and dispatching people to my home area (Buhera) with the report and to spread news of Gono's corruption, kikikikikiki (meaning laughter)," he wrote.
On Monday, the Southern Eye revealed that council was probing a number of people including Gono, Transport minister Obert Mpofu and MDC leader Welshman Ncube for buying, but failing to develop land in the city.
Gono's revelations that some unnamed people had taken the report to Buhera could be an indication of infighting within Zanu PF.
The former RBZ governor was tipped to replace the late Kumbirai Kangai, but faced stiff resistance from some within Zanu PF and his chances were finally torpedoed by revelations that he was not registered as a voter in Buhera.
President Robert Mugabe revealed that there had been some influential people in the government and Zanu PF who had ordered State media never to report on Gono.
Gono said reports of a council probe for the undeveloped land, which he bought in 1992, were meant to "raise disproportionate alarm that borders on skulduggery in the absence of facts".
In a message to the local authority, Gono sarcastically said there was no need to waste time investigating him and instead it should improve "water supplies in and around Windsor Park area, the very reason why my family opted, way back, to purchase a completely built house in the City of Kings and Queens, than develop that 'one acre vast piece of land into a house'".
Gono said he owed less than $1 500 in rates and "after paying off the rates owing, (the land will) be surrendered in exchange for fair value, to City of Bulawayo".
The council has in the past expressed concern about the high number of commercial stands that have remained underdeveloped for a number of years.
According to council regulations, if an owner fails to develop a stand for two years, the local authority can repossess it without paying any compensation.
The city's housing waiting list presently stands at more than 100 000, as both the council and private land developers are failing to cope with the high demand in the face of economic challenges in the country.