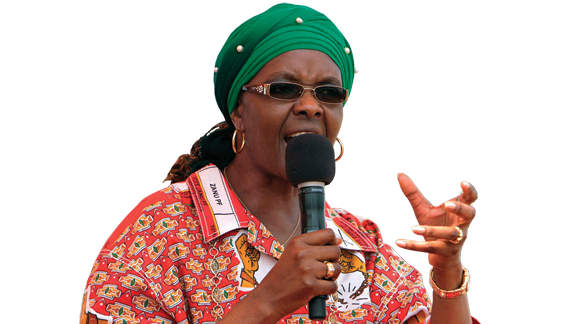 AS THE New Year begins, the previous saw political drama characterised by infighting, expulsion of key members, party splits, reunification and sacking of ministers, the trend looks set to continue at a much faster pace this year.
Nqobile Bhebhe Chief Reporter
Last year the country witnessed shocking changes on the political scene, with the First Lady Grace Mugabe making lightning entry into the mainstream political arena with devastating effects.
Many ordinary Zimbabweans viewed her as being a de facto president as her pronouncements at rallies were followed by quick action and reaction.
The ruling Zanu PF ended the year with its "elective congress" which predictably reinstalled President Robert Mugabe, who turns 91 in seven weeks' time.
That saw the overthrow of former vice-president Joice Mujuru and a massive purge of members perceived to be fanning factionalism.
Zanu PF said this was some form of a rebirth, rejuvenation, while others viewed it as internal regime change.
To the general public, the ruling party emerged from congress stronger and a united force with no factions, but that is far from being true and looks set to get nastier.
Even before concluding rolling out celebrations of his appointment as vice-president, daggers are already out for Emmerson Mnangagwa.
A "gang of four" comprising Information minister Jonathan Moyo, Environment minister Saviour Kasukuwere, Higher and Tertiary Education minister Oppah Muchinguri and Mugabe's nephew Patrick Zhuwao, is reportedly turning its swords against Mugabe's perceived heir.
The four, who played a crucial role in the ouster of Mujuru, are now reportedly accusing Mnangagwa of letting them down by giving them less influential party and Cabinet positions.
The gang of four with its band of followers is not expected to give in to the new order, but would wage a bitter fight to claim its stake.
The group would likely be bolstered by the ageing Mugabe, largely viewed as being weak and losing control of the party, to push its agenda and position itself for 2018.
However, as the infighting is set to continue, the warring factions will be united on keeping in check the ousted Mujuru and her allies.
Damning corruption allegations have been levelled against Mujuru and police last week instituted formal investigations. During her time of public persecution by her foes fronted by Grace, Mujuru gained a lot of sympathy from the ordinary public giving speculation that she might form a political party.
Despite Moyo claiming Mujuru had no legislators, a purge on her perceived supporters is looming. There were rumours that Mujuru supporters were mulling impeaching Mugabe and to counter their plans, a new purge is being planned, which could see as many as 100 legislators facing the axe.
At least two by-elections are looming on posts previously held by Mujuru and Mnangagwa and these could be used by Zanu PF to test waters before the purge of people it believes are dissenters.
Former Prime minister Morgan Tsvangirai's opposition MDC-T political clout seems to continue to fade.
Tsvangirai has in the past year called for protests, but failure to lead any has called into question his credibility. While Tsvangirai might attempt to pull himself from near oblivion, his major handicap seems to be finance.
Reports are awash that the party and his personal coffers have dried up, with major traditional bankrollers having deserted.
That financial impediment might work well for his foes, who ditched him and formed their parties.
Former MDC-T secretary-general Tendai Biti and a host of top members pulled out of the MDC-T and formed MDC-Renewal. Months later, MDC and MDC-Renewal merged and are now operating under the banner of the United Movement for Democratic Change.
The jury is still out on what this wedding will achieve, with the party, jointly -led by Welshman Ncube and Sekai Holland, expected to hold a joint congress later this year.
Financial resources to bankroll key infrastructural projects are set to be a major issue.