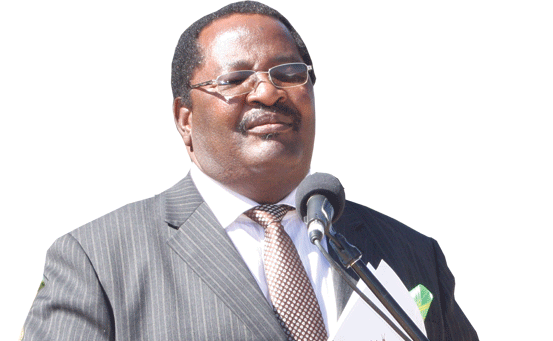 BULAWAYO CITY COUNCIL has targeted Transport minister Obert Mpofu and Gideon Gono among a host of top politicians and prominent people accused of letting vast areas of land lie idle for years.
nqobile bhebhe Chief Reporter
MDC leader, Welshman Ncube and property magnate, Ernest Marima have also been named in an unprecedented clampdown on high ranking officials accused of abandoning vast swathes of land.
Close to 400 properties, mostly in the eastern suburbs, have been targeted for reclaim. This is a sharp departure from the norm, where only stand numbers would be published and not names of owners. Council gave the affected owners 60 days to make necessary payments or risk repossessing.
Section 5 of the Titles Registration and Derelict Land Act Chapter 20:20 states, "persons having claim on derelict land may apply to High Court for relief".
"Whenever there remains due and unpaid for the space of five years any rate or assessment payable to any municipality or other public body any immovable property in Zimbabwe and such property is abandoned, deserted and left and the owner, therefore, cannot be found, it shall be lawful for the person or body claiming such rate or assessment to apply to the High Court, stating the amounts claimed to be due and the grounds for applying for relief under this Act," the law reads.
According to a list from the local authority eminent persons include Mpofu and his wife Sikhanyisiwe (Matsheumhlophe), Ncube and wife Thobekile (Burnside), Gideon Gono (Winsor Park) and Marima with a single stand at Queensdale.
On companies Gope Investments (Pvt) Ltd leads the pack with 28 stands all in Matsheumhlophe, Giga Properties (Pvt) Ltd has 16 at Waterlea, Anzac Investments, nine stands at Burnside and Bulawayo Golf Club has five stands at Riverside.
National Railways of Zimbabwe has a stand at Southworld, Forestry Commission (Riverside) and Zumpango Investments has four stands at Matsheumhlophe.
The council has in the past expressed concern about the high number of commercial stands that have remained underdeveloped for a number of years.
According to council regulations, if an owner fails to develop a stand for two years, the local authority can repossess it without paying any compensation.
The city's housing waiting list presently stands at more than 100 000, as both the council and private land developers are failing to cope with the high demand in the face of economic challenges in the country.