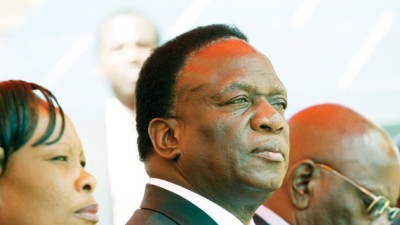 Emmerson Mnangagwa could be Zimbabwe's next president, but as ever with Mugabe there is no certainty, writes Jason Moyo.
Mnangagwa, the man now most likely to succeed President Robert Mugabe, remains something of an enigma to many Zimbabweans.
Mugabe named him and Phelekezela Mphoko, a former military commander and Zimbabwean ambassador to South Africa, as his two deputies two weeks ago.
It ended months of fighting in Zanu PF and marked Mugabe's firmest move yet towards naming an heir.
If it is the former, it is not clear which Mnangagwa Zimbabwe will get: The feared and cunning Mnangagwa, known as "The Crocodile", or the witty, humorous Mnangagwa, who is opposed to the death sentence.
In an interview with the state newspaper Sunday Mail, Mnangagwa's wife, Auxillia, described him as a "soft and humble man of few words".
But standing before thousands of Zanu PF supporters last week, Mnangagwa could barely curb his enthusiasm as he read out new party laws that would sweep rivals from his path to power.
He sang out the slogans, enjoying the moment, raising laughs and cheers from supporters.
After 10 years, he had finally had his revenge on Joice Mujuru and her faction who, in 2004, had denied him the vice-presidency.
Hot favourite With his appointment, Mnangagwa (68) is now the hot favourite to succeed Mugabe.
But the president hates ambition and serving under Mugabe will test Mnangagwa's patience and the three decades of loyalty between the two men.
Mnangagwa has served Mugabe for 37 years and sees himself as the president's most trusted man.
Early in November, as tensions in the party peaked, Mnangagwa addressed a small group of his supporters in his hometown, Kwekwe. He told them how, in the tense hours of transition to independence, he had stayed up with Mugabe to hold midnight negotiations with Ian Smith and his negotiator, David Smith.
"It was just President Mugabe and myself at one side and the two Smiths on the other side. I saw [the transition] happening with my own eyes, step by step, while I sat next to President Mugabe."
Mnangagwa said that, when the economic crisis of 2008 threatened to sink the government, Mugabe looked to him for leadership. "Even after we were hit by sanctions and our dollar was hit by the whites, to the point that it became useless, the president appointed a five-member committee, which was led by me, so that we could craft our way out of the mess."
Mnangagwa and Mugabe bonded in jail in the 1970s.
In 1977, Mnangagwa left his job as a lawyer in Lusaka to take up a job as Mugabe's special assistant in Mozambique.
Mnangagwa's nickname comes from the Crocodile Gang, a special sabotage unit he was part of during the fight for freedom. Over the years, the name has come to symbolise his image as a cunning, ruthless figure.
In 1963, he was in one of the earliest groups to leave for military training in Egypt and China. On his return, he took part in daring missions against the Smith regime, including sabotaging a locomotive in 1965.
Members of his group were executed, but he was spared because he was under age. Instead, he went to jail and shared a cell with Mugabe.
Reward for allegiance In the days leading up to independence, Mnangagwa was constantly by Mugabe's side. In one picture, taken in 1980 as Mugabe arrived for his first rally in Zimbabwe, he is flanked by Mnangagwa on his left. On Mugabe's right is Solomon Mujuru, who was Joice's husband and later to become Mnangagwa's bitter rival.
Mugabe may finally be rewarding Mnangagwa for the years of allegiance. "They (the new vice-presidents) must be loyal, truly loyal," the president said last week.
Despite appearing to abandon him in 2004, Mugabe has remained devoted to Mnangagwa. He faced a string of electoral defeats, but Mugabe rescued Mnangagwa each time by appointing him to government posts.
What remains in question is whether this means Mugabe has finally picked a successor, or whether there will be yet another twist in the plot.
"Mnangagwa is certainly in a strong position, but with Mugabe you can never take anything for granted," said an analyst, Brian Raftopoulos.
After his 2004 setback, Mnangagwa appeared to be out of the picture. But he regained Mugabe's trust by engineering Zanu PF's controversial electoral victories.
He stayed under the radar for years, plotting his comeback, before striking hard in the past few months.
"Outside of President Mugabe, there is no better strategist in Zanu PF than Mnangagwa," said Owen Ncube, a Zanu PF MP and Mnangagwa's long-time aide.
He has a sharp sense of humour, belying his persona as a feared securocrat. Once, asked about his reputation for being a hard man, he told an interviewer that he was, in fact, "soft as wool".
Among the locals in his area, he is known for humorous church sermons and speeches. But his alleged ruthlessness in dealing with opponents is legendary.
Wednesday, following the announcement, it was Mnangagwa the statesperson who appeared before reporters.
"The revolution has a way of strengthening itself. It goes through cycles. This is another cycle," he said.
Aware of how rash shows of ambition could be dangerous, he said of his 2004 setback that it "was appropriate that it happened that time".
Little is known about his business interests but he owns the productive Sherwood Farm outside Kwekwe.
In 2002, a United Nations report into the illegal exploitation of resources and forests in the Democratic Republic of Congo described him as "the key strategist for the Zimbabwean branch of the elite network". He denied any involvement.
Mnangagwa is widely viewed as a hardliner, but government insiders say he is a pragmatist. "It's inaccurate (to describe him as hardline)," a minister allied to him but who did not want to be named said this week. "He is the firm type but quite pragmatic. He was key in pushing for the currency reforms in 2009. He is also a good negotiator who likes to build consensus."
Eddie Cross, the economic affairs secretary for the opposition Movement for Democratic Change, said a Mujuru presidency would be "less draconian but at the same time more corrupt". Mnangagwa, on the other hand, was a "skilful lawyer" and "a businessman who understands business", Cross said.
Mnangagwa is strongly opposed to the death sentence, a result, he says, of his own experience on death row. Early this year he told an Amnesty International gathering that the country would remove the death penalty.
There are 89 people on death row. "I believe that our justice system must rid itself of this odious and obnoxious provision.
"The mental torture occasioned by the mere know–ledge that it is all over, coupled with the experience of being treated as the scum of society, brings utter hopelessness and despair," he said.
Mnangagwa may be eager to bring in changes but he will be tested. Mugabe is 90, but he is unwilling to relinquish power. Time will tell just how patient The Crocodile is.
– Mail&Guardian