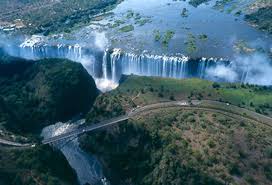 VICTORIA FALLS Town Council has approved an increased budget of $20 million for 2015 amid expectations from residents authorities will prioritise improving infrastructure, sewer and water reticulation services.
Nokuthaba Dlamini Own Correspondent
The budget is an increase from this year's budget, with a slight difference of $2 510 331.
In an interview on Friday, the resort town's council treasurer, Thembinkosi Khumalo, said the increase was supported by all residents and businesspeople and it aimed at improving the town's infrastructure.
"The budget has a very slight difference from that of this year," he explained.
"The 2015 budget is different because we considered improving our infrastructure. Last year we did not spend much on that."
Khumalo said the local authority wanted to upgrade sewer ponds and the water system.
"We have set aside $2 million mainly for buying sewer and earth-moving equipment, so that people get health and sanitation to prevent unnecessary diseases," he said.
"The other increase was $870 100 aimed at buying tippers to upgrade our road network. This town is a tourist destination and our roads have to be standard.
"We need to redo all the roads, especially in suburbs that were not well done and cover all the potholes."
The town treasurer revealed that they were planning to borrow some money from the government to supplement funds for their projects.
"We agreed to borrow $74 300 from the ministry so that it assists us in accomplishing all our goals," he said.
"Our people this year experienced water shortages risking their health and as a municipality we need to make sure that we provide clean and safer water for our consumers and improve the infrastructure."
The resort town for the past months has been dogged by serious water shortages amid revelations that there was not enough equipment to pump water.