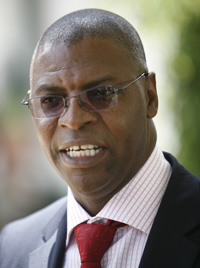 MDC leader Welshman Ncube has described the power wrangles in Zanu PF as "mafia gangsterism", as the party went on an unprecedented purge of members believed to be aligned to Vice-President Joice Mujuru.
SILAS NKALA STAFF REPORTER
In an interview made available to the Southern Eye, Ncube said what was happening in Zanu PF was far removed from the country's goals, warning that every Zimbabwean should be wary of the infighting rocking the ruling party.
"Every Zimbabwean must be very concerned and indeed must be very afraid," he said.
"What we are witnessing is that any pretensions that this party is democratic has totally dissipated," he said.
"What we witness is the regression into a complete mafia gangsterism in the way in which the party is being organised and you can see a group of zealots who have absolutely no respect for anything called democratic tradition.
"Zealots who will think to any level in terms of lies, in terms deception, in terms of violence, name just about any anti-democratic vice, you will find it in the zealots who have just taken over Zanu PF at this particular moment."
A number of Zanu PF senior members have been purged from the party on several, sometimes spurious, allegations they plotted a coup against President Robert Mugabe, they planned to kill him, were corrupt and were fanning factionalism.
Ncube, a co-leader of the recently-launched United Movement for Democratic Change further said Zimbabweans who did not care about Zanu PF and were not members of the party should be concerned that the zealots who had taken over the party would be in charge of the country.
"As we move towards future elections, we should all be extremely concerned that if these people can do what they have done to some of their own in the manner in which they have done it, what are they capable of against those of us who oppose them openly, directly and making no apology that they must not be anywhere near power?" he asked.
"These are the things that should be worrying us.
"What was passed for an elective congress has been reduced to nothing but a praise-singing fascistic celebration of thuggery."
On being asked that there were rumours some opposition parties were mooting forming a coalition with the beleaguered Mujuru, Ncube said at this stage it was premature to think of a pact with her.
"My sense is that at this stage it is premature to even consider that possibility," he said.
Ncube said it would take a lot of courage for one to act against Mugabe and join any coalition or to form their own political party.
"This is because they will probably be content with staying out of jail," he said.
"Indeed even if they are few who are innocent, there is nothing which can stop these gangsters from going to them and infusing and abusing the law to go at them.
"I do not see evidence that any of them has the courage to stand up and start working with anybody else in the circumstances."
Ncube said if they were to decide to walk out of Zanu PF, the party's base would literally obliterate them.
He said Zanu PF had always been a militarised organisation, an autocratic party run by one man.