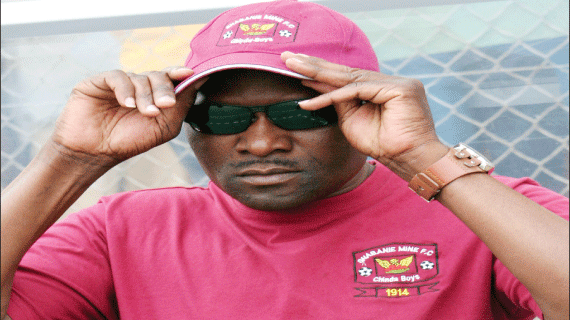 HOW Mine Football Club could lose as many as nine players whose contracts expire on December 31.
SUKOLUHLE MTHETHWA SPORTS REPORTER
Most of their players came on board hurriedly as they prepared for the 2014 Orange Caf Confederation Cup after they had finished as runners-up to Highlanders in the Mbada Diamonds Cup last season.
The gold miners, who survived relegation from the Castle Lager Premier Soccer League (PSL) in the last days of the programme, will today and tomorrow conduct trials at How Mine Stadium as they seek to bolster their squad for the 2015 season.
Top goalscorer Kudakwashe Musharu, Gilbert Banda, George Magariro, Brighton Dube, goalkeepers Ephraim Mazarura and Notice Dube, Timothy January, Thembani Masuku and Edmore Muzanenhamo's contracts expire at the end of the year.
Midfielder Menard Mupera's contract runs out next year and the former Black Rhinos, Highlanders and FC Platinum player yesterday refuted rumours that he was hanging his boots.
"I am yet to retire," Mupera said.
Utility player, former Shabanie Mine skipper Tafadzwa Mombeshora is rumoured to be leaving Buffaloes for How Mine. Head coach Luke Masomere, who said he was building a team to compete in the league after he took over from Philani Ncube in August, yesterday said they wanted to go for the Christmas break having sorted things out in readiness for next year.
"We are going to conduct trials at How Mine Stadium tomorrow (today) and Thursday (tomorrow)," he said.
"We want to go for the Christmas break knowing that our things are in order. We want to do our things in an organised manner. I am hoping to get three defenders, two midfielders, two strikers and a goalkeeper.
"We are not worried about what other teams are doing. We just want to conduct these trials as we prepare for next season."
According to an advert flighted in this publication by How Mine yesterday, the trials are for players aged 25 years and below.
"We want players who have the ability to perform at this level (PSL)," Masomere said.
"We are encouraging young players to attend. Their advantage is that if they are good they can be offered long-term contracts. You cannot give a 34-year-old player a three-year contract."
The veteran coach said he was aiming to move up the log table next year after finishing the 2014 Castle Lager PSL season on position eight with 40 points from 30 games.
He took over from Ncube when How Mine were on position 12 with 24 points from 21 games.
"My aim is to finish in the top seven next year," he said.
"If we move one step up that will be an improvement in terms of the performance of the team."
How Mine chairman Mlondolozi Nkomo said they wanted to give other players a chance.
"We want to get our team ready for next season," he said.
"This year we ended up registering players who were not fully assessed because of time constraints. The other reason is because many players from the lower divisions were calling us during the season saying they want to join us. So we want to give them a chance so that the coaches can see if they can get slots in the team."
Nkomo said after the two-day trials, Masomere would then inform them of the players he was interested in, after which they would determine which players in the current squad to release.