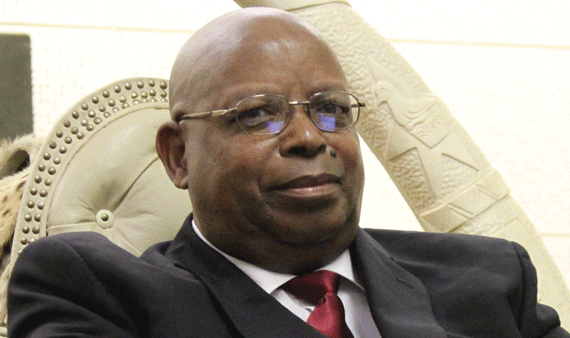 SPEAKER of Parliament, Jacob Mudenda, has suffered a major setback to land the powerful post of Zanu PF national chairperson after a vote of no confidence was passed against him on Saturday, days before the party's crucial congress.
NQOBANI NDLOVU STAFF REPORTER
Mudenda had emerged as a dark horse to land the post, alongside Phekezela Mphoko who is earmarked for the vacant vice-presidency post.
A Matabeleland North Zanu PF provincial joint committee passed a vote of no confidence against Mudenda and Small Medium Enterprises minister and Nkayi North MP, Sithembiso Nyoni, over charges of fanning factionalism and causing violence.
The decision was endorsed by a provincial inter-district conference held on the same day, Clifford Sibanda, the Zanu PF's Matabeleland North secretary for administration and Bubi legislator, said.
Sibanda said the province had since written to the party's national executive requesting Mudenda and Nyoni be removed from the Zanu PF central committee and politburo.
"We resolved to recall them from the party positions that they currently hold," he said.
"We cannot recall them from the government because we did not appoint them."
Sibanda said there had been calls from the party structures that the two be removed from their posts, but the leadership in the province had not done so, as it was trying to manage the situation.
"However, there was no change in their attitudes and behaviour as the factionalism they were causing was now spilling into the inter-district conference which is an elective organ of the party that votes for people to the central committee," he continued.
"They hired people to disrupt the conference and we could not allow that.
"The joint committee of the province met and resolved to recall the two and the decision was passed on to the provincial inter-district conference, which fortunately unanimously voted in favour of the decision."
Mudenda and Nyoni were unreachable yesterday.
Meanwhile, Callistus Ndlovu yesterday expressed surprise that he had been booted out from the post of Bulawayo provincial chairperson, less than a month after the party's politburo had vetoed an earlier vote of no confidence against him.
The Zanu PF Bulawayo provincial co-ordinating committee on Friday ousted Ndlovu, a decision that was endorsed by Saturday's full provincial council meeting.
Vice-chairperson Christopher Dube is the acting chairperson.
"This is not defying the politburo, but the thing is that everyone is now agreed that Callistus should go.
"Comrades that had earlier sided with him now realise that we were right after all to boot him out the last time," war veteran George Mlala, who had spearheaded the earlier vote of no confidence against Ndlovu and claimed to be in charge, said.
Nldovu yesterday said he did not know that he had been ousted.
"I do not know about that," he said.
"I was not there at that meeting and I cannot comment."
Low and senior ranking Zanu PF officials, including ministers, have fallen by the wayside in an ongoing purge of perceived allies of vice-president Joice Mujuru whom First Lady, Grace Mugabe accused of plotting to assassinate the president.
Related Topics