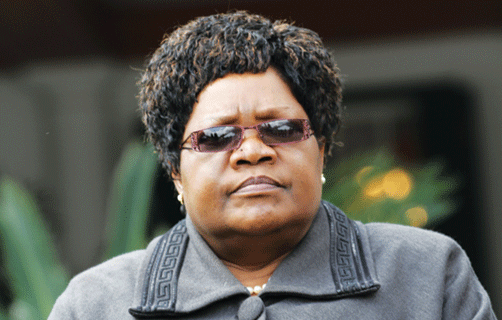 VICE-PRESIDENT Joice Mujuru's fate may as well have been sealed and it is only waiting confirmation at the Zanu PF's December Congress, analysts said yesterday. NQOBANI NDLOVU STAFF REPORTER
Analysts said statements by politburo member Josaya Hungwe that President Robert Mugabe had been mandated to appoint his lieutenants at the congress all but sealed Mujuru's fate.
Hungwe told cross-border traders in Mazowe on Tuesday that the party's supreme decision-making body, the politburo had agreed that only Mugabe would be voted into office, with the rest being solely appointed by him.
Mujuru faces a volley of caustic attacks from First Lady Grace Mugabe over alleged attempts to topple the president and has said she must resign or be dumped at the congress.
A number of Zanu PF chairpersons have since fallen by the wayside over links to Mujuru, while Cabinet ministers Nicholas Goche, Dzikamai Mavhaire and Didymus Mutasa also face the same fate.
Analysts said the fact that Zanu PF chairpersons were kicked out after being attacked by Grace is enough confirmation that Mujuru awaits the same fate.
"It's no longer a secret that Mujuru's fate has been decided and she might not reach the congress in her position," political analyst Blessing Vava said in an interview.
"We have all seen that Grace Mugabe's statements were fulfilled with the ousting of provincial chairpersons."
Khanyile Mlotshwa, a media scholar based in South Africa, added that events in the past few weeks pointed to a Mujuru humiliation.
"If Hungwe is not engaging in propaganda, then elites have colluded to deny ordinary Zanu PF members the opportunity to directly elect their own leaders," he said.
"It is nothing but a perverted dictatorship of a few elites of immoral and unethical political habits."
Mlotshwa said Mujuru's fall would be "a loss for each and every individual Zanu PF member, those still patriotic and not pushed by narrow factional interests and opportunism".
Already, Jabulani Sibanda — the ousted war veteran's leader — and ex-Zanu PF spokesperson Rugare Gumbo have been fired and suspended respectively from Zanu PF for crossing paths with Grace.
Exiled journalist Admore Xolani Tshuma weighed in, however, expressing sadness that Zimbabwe was taking steps back from achieving full democracy by allowing a few individuals to decide the fate of others.
"The declaration by Hungwe that Mugabe has been endowed with powers to appoint is a clue of how gawky Zimbabwe has been ruled in the last 34 years by our freedom fighters," he said.
"Hungwe's announcement reinvigorates claims by critics that Zimbabwe is not yet a fully-fledged democracy.
"You cannot masquerade as a social democrat when one man is endowed by a few to appoint political leaders in the 21st century."
South Africa based Zimbabwean born media scholar, Trust Matsilele said Hungwe's statements buttress recent events as a pre-emptive move leading to the congress, where Mujuru may be kicked out.