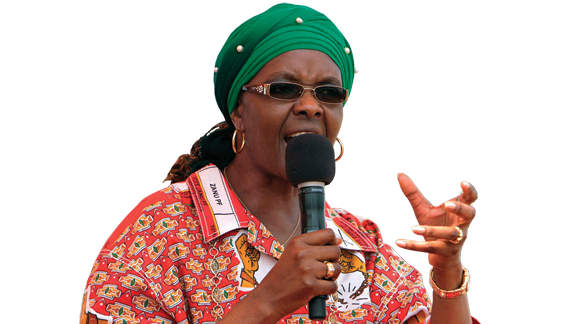 A PLANNED march to show support for First Lady Grace Mugabe by a faction battling to control the Zanu PF Bulawayo structures yesterday flopped spectacularly, with less than 80 people, turning up. NQOBANI NDLOVU/ EVERSON MUSHAVA
The march — which began at the main Post Office — was initially set to start at 10am, but was delayed by an hour as the organisers tried to woo residents to join them.
Even attempts to plead with hundreds of party supporters gathered at Zanu PF's Davis Hall offices for accreditation to attend next months' congress failed, resulting in the organisers hiring a 25-seater commuter omnibus to provide transport to those in the high-density suburbs.
The organiser of the march, George Mlala — who says he is the acting chairman of the Bulawayo province — claimed the demonstration had been sabotaged by Callistus Ndlovu, the provincial chairperson.
"This is sabotage, they sabotaged the march," Mlala told Southern Eye in an interview after the march.
"I am the chairperson of the province and I expect my orders to be followed. We told everyone to attend the march."
From the Main Post Office, the march proceeded to the City Hall car park, where organisers addressed the marchers.
The small group failed to draw the attention of the normally inquisitive vendors and passers-by who carried on with their activities.
Mlala claimed that the march was organised by the shadowy Bulawayo Citizens' Association, adding that Zanu PF only took part in solidarity.
He expressed dismay at Zanu PF officials who went ahead with the accreditation process, saying this had caused the rally to flop.
"We told office bearers to delay the accreditation process until after lunch so that party supporters can attend the morning march, but I was surprised this morning that they chose to ignore us and went ahead with the accreditation, thus resulting in party members failing to attend this march," Mlala said.
"We will deal with them.
"We are going to take necessary corrective measures against the office bearers who chose to ignore my directive.
"They are still suffering from a hangover of the Callistus Ndlovu executive."
Mlala accused officials at Zanu PF provincial headquarters, Davis Hall, of being against Grace Mugabe, warning he would deal with them.
"They have shown that they are against the First Lady, that is why they chose to sabotage this march aimed at pledging support to the First Family," he said.
"This is a revolution and those who stand in the way of the revolution will be crushed."
Mlala claims he has taken over, but Ndlovu insists he is still in charge.
Politburo member Sikhanyiso Ndlovu on Tuesday threw his weight behind Ndlovu, saying the vote of no confidence was unprocedural.
Related Topics