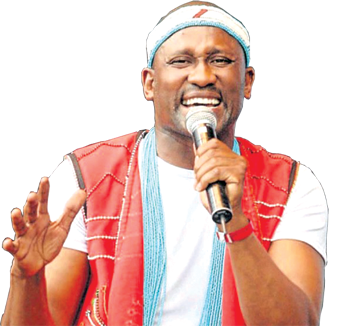 Johannesburg – AFTER five years, the darling love maestro Ringo, is back with a new album.
Vulani is his 11th release in his career which began in 1986 when he won Shell Road to Fame with his group, Peto.
Ringo explained that he had to wait for his contractual obligation to EMI to run its course and now has a joint venture with Electromode, a company he worked with at the start of his career.
Recalling his history with Electromode, the romantic singer smiled: "I used to do cover versions for Electromode's 100% albums.
"They sold very well in those days. Dr Victor would do the Bob Marley covers and I would do the rest from Boys II Men to rock music."
He also cut his live performance skills playing in the popular cover band Walk This Way back in the day.
"We would do 36 songs six nights a week and perform in mostly white clubs," he said.
"A typical day was an 11am wake up, go down to the gym at 1pm, get picked up at 6pm and then perform from 8pm to 4am." That was over 30 years ago."
Fast-forward to the 21st century and Ringo is set to ride another high with Vulani. During his five-year waiting period he was not idle. In between penning songs and performances, he recorded with artistes outside of his genre.
They included Professor, Black Coffee and Trompies. The track uThando, with Professor, has become a classic over the years and is indeed one of Professor's most melodic tracks.
Ringo is also featured on the latest Trompies album, Mapantsula, Moenie Worry. The track, Imnandi Lengoma, also features Jah Seed.
"Mahoota called me and told me there was a track of theirs which I could do wonders with," he said.
"I listened to it in my car over and over again and then started singing about them: Spikiri, Jakarumba, Mahoota. When it came to recording, Spikiri was producing.
"He was so encouraging. The vibe is beautiful in that studio and that's where one gets the authenticity, the realness."
Talking about his new album, Ringo says: "There is growth in the album. I inject a lot of jazz.
"The call response in it has an African feel. I kept the love theme.
"The songs encapsulate all that. All of the songs I do are about love and unity, about peace and quiet, bedroom romance and the unity that gets people together. These days it could be a man and a man, a woman and a woman. It's about love."
He says that during the five years he wrote many songs and then went back to tweak them.
In choosing the songs on the album he said he chose songs which are relevant now: "But I also wanted to bring back my sound."
A standout track is the catchy Askies Joe which has two versions, one which includes popular Sowetan rapper, Siya Shezi.
Overall, the sound is classic Ringo, but with a 2014 interpretation. As he heads for 50, he has decided to change his image somewhat and that is reflected on the album cover.
He does not have his usual Xhosa traditional beads. Instead, he is wearing a suit, but has stuck to his roots by including a Xhosa village in the background.
"I was an innovator in that I bought back singing in Xhosa at a time when people like Brenda Fassie were singing in Zulu and English," he said.
"My music slowly kept going up and has kept me going.
"I have used patience and knowing what I do is from the heart.
"I found a way to get my space in that new music on this album. I'm honoured that I've been given the space to do what I want. I have grown with my audience and I love that."
– IOL
Related Topics