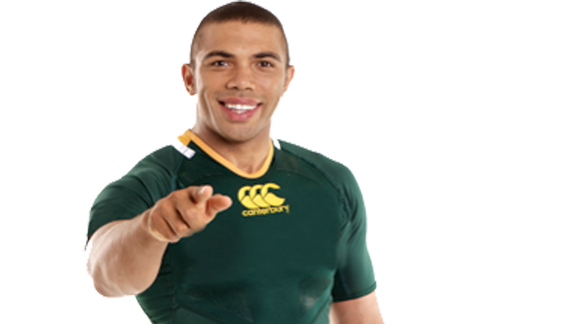 SOUTH AFRICA'S Bryan Habana has spoken of his relief at not having to face his Toulon teammate Steffon Armitage at Twickenham this weekend.
Armitage, who was crowned European player of the year following Toulon's Heineken Cup success last term, is not eligible to play for England as they will only pick those plying their trade overseas in "exceptional circumstances".
Despite coming close to completing a short-term move to Bath, a switch which would have made him available for England, Armitage will stay at Toulon this season and his international exile will continue.
Habana, speaking to the press on Wednesday, said "I'm really happy that I'm not playing against Steffon" and added while he is not surprised Armitage is currently omitted from selection due to the relegations, he claims the back-row would do a superb job if called upon.
"As a player you understand the rules and regulations from an administration point of view and you could ask me the same about Matt Giteau who could easily slot straight back into the Australia squad," Habana said.
"As a player I'm very privileged that South Africa don't have a rule whereby they can't select a player from outside the country.
"I feel for guys like Steffon and even Delon, who has also been playing really well, but when you do decide to take an offer overseas coming from a country where those rules are in place, you fully understand what you're getting into.
"He definitely wouldn't let that England jersey down if selected, but unfortunately he chose that option a couple of years ago and has to live by that decision."
And Habana revealed he has spoken with Armitage about his international frustrations. He said: "It's difficult for him. He really loves England and loved playing for the country.
He made the decision a couple of years ago to go to France.
"It's frustrating if you've been playing a level of rugby that sees you selected as European player of the year, but you're not playing for the international team.
It could be a little heartbreaking for him but it's a decision he's taken and a decision he understands.
Hopefully there's light at the end of the tunnel. There could be an exception made going forward."
For Habana and the rest of his teammates, they head into tomorrow's game at Twickenham off the back of a loss to Ireland last weekend and he wants his side to put down a marker both in performance and result.
"We let ourselves down last weekend in certain areas where we were improving dramatically," Habana said. "The breakdown area is specific area we have worked on pretty hard under Richie Gray for the past two years and we let ourselves down.
Ireland were very good in that area. Our kicking game, again, wasn't as great as it could be. Indiscipline cost us a few points and a bit of field position.
"Everybody wants to lay down markers but as a team, if we want to take the next step and keep moving forward, we want to make sure the areas we let ourselves down in last week (we improve) and the areas we have been good in, we get back to that. Laying down a marker tomorrow is important.
"But for us as a team going out there and playing a brand of rugby that we have set for ourselves and meeting the goals we have set for ourselves is going to be a lot more important than the actual outcome. The process is going to be more important."
– ESPNscrum