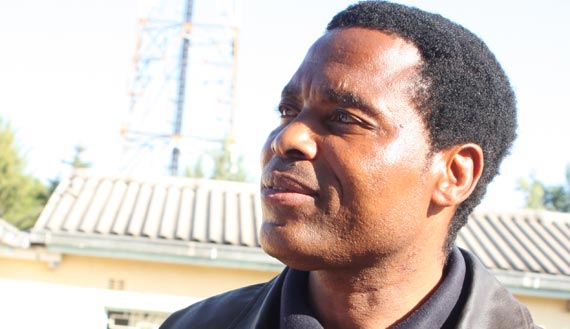 THE war veterans executive has told its beleaguered leader, Jabulani Sibanda, to call for a meeting with President Robert Mugabe and explain what he meant by saying he would oppose a "bedroom coup", in reference to First Lady Grace Mugabe's public bashing of Vice-President Joice Mujuru.
BENSON DUBE OWN CORRESPONDENT
The organisation, however, insisted Sibanda was still in charge, dismissing another group led by Buhera legislator Joseph Chinotimba that will hold its congress at the weekend.
"As the executive, we quizzed him about bedroom coup sentiments and advised him to go and explain himself directly to His Excellency," Zimbabwe National War Veterans' Association (ZNLWVA) spokesman James Kaunye, said.
"Whatever sentiments he made then were in his personal capacity and not representing the association and he must go and clear his name. A leader can have his personal opinion, but what he said was not a collective assertion, no wonder why we asked him to go and clear his name with the president."
Kaunye insisted that Sibanda was still the bona fide leader, dismissing a group called war veterans elders, which claimed to have fired the association's president.
"The so-called war veterans elders is a self-proclaimed title," he said.
"We do not have such terminology in our association.
"Patrick Nyaruwata is a bona fide war veteran and I do not know what is driving him away. The so-called elders of war veterans do not represent anybody."
Kaunye said Sibanda had to clear himself as an individual with the patron of the association Mugabe for the "bedroom coup" utterances he made before he could be allowed to speak on behalf of the former freedom fighters.
The previously unknown war veterans' elders is fronted by Nyaruwata from Harare, George Mlala of Bulawayo, Nelson Chadamoyo (Mashonaland Central), George Matenda and Victor Matemadanda, both from the Midlands.
"President Robert Mugabe directed that all organisations with war veterans must merge, as we fought for one cause and there is no need to have several organisations," Kaunye said.
He said the association had not done anything wrong and they had the right to defend themselves against attacks from anyone.
The elders' grouping have called for an extraordinary war veterans' conference to elect a new executive in Masvingo on Saturday to replace Sibanda's team, but Kaunye dismissed the elders saying they represented no one since they did not appear in any structure of the ZNLWVA.