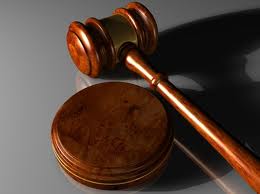 A 31-YEAR-OLD Chinotimba man in Victoria Falls was found guilty of contempt of court for defying an order to pay maintenance for the upkeep of his two children. RUTH NGWENYA OWN CORRESPONDENT
Innocent Fungirai has continuously defied a maintenance court order for three years to pay $50 per month for his two children aged nine and four years respectively.
Fungirai was found guilty by Victoria Falls resident magistrate Sharon Rosemani of failing to pay $1 450 to his ex-wife Rumbidzai Makoni.
Fungirai was ordered to pay $50 directly into Makoni's bank account after they separated in 2011, but he allegedly never deposited anything.
He, however, disputed the fact that he defied the maintenance order telling the court that Makoni did not open a bank account and he used to hand her the cash in person.
In response, Makoni said: "He is lying. I opened the account in December 2010, but he never deposited any money. I'm not angry at him, I just want him to take care of his children. Right now I owe $240 in school fees. I do not want him to go to jail."
Fungirai was remanded in custody to today for sentencing.