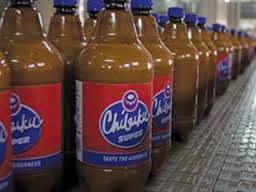 A SHORTAGE of opaque beer has hit the Midlands town of Zvishavane with dealers forced to travel long distances in search of the elusive traditional brew. PRIVILEGE SHOKO OWN CORRESPONDENT
Some Zvishavane dealers who spoke to Southern Eye Business yesterday said they had to travel to Mbalabala in Matabeleland South in search of Chibuku Breweries products, particularly the newly introduced Chibuku Super.
Most dealers claimed Chibuku Breweries appeared to have stopped deliveries to the mining town at a time Zvishavane is bracing for the festive season.
Patrick Zhou, a Zvishavane dealer, said they were failing to meet demand due to erratic deliveries from the supplier.
"These days there is high demand for the new Chibuku Super to the extent that we have to travel to Mbalabala to get supplies as Delta Corporation has stopped delivering in Zvishavane and surrounding areas," he said.
"Some of us do not have transport and we have to hire trucks to get the supplies from Mbalabala."
Luke Moyo, from Mberengwa, urged Delta Corporation to improve its service in the area.
"Delta should improve its service because already there is congestion in Mbalabala as there would be dealers from Filabusi and around Mbalabala," he said.
"Delta Corporation ends up limiting us to the extent that some of us go back empty handed."
Delta corporate communications manager Tsungie Matiure said the beverages manufacturer was trying its best to deliver supplies nationally. However, she said after they stopped production at some plants across the country, it had become difficult to meet demand.
"We are really trying by all means to make it to the customers," she said.
"We have stopped production of the standard Chibuku beer at Chipinge, Marondera, Hwange, Mvurwi, Karoi and Zvishavane."
"We currently have only one plant in Chitungwiza operating and due to the overwhelming demand, we are setting up a second plant in Bulawayo."