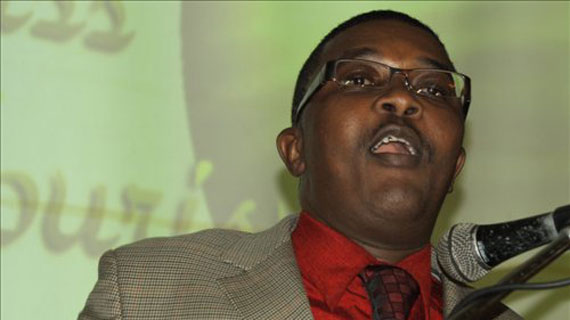 TOURISM and Hospitality Industry minister Walter Mzembi says the hosting of the African Union Sport Council Region V Under-20 Youth Games by Bulawayo in December provides a litmus test for the country's capability of hosting the Africa Cup of Nations (Afcon) in 2017. NQOBILE BHEBHE/ SUKOLUHLEMTHETHWA
Zimbabwe is eyeing to host the 2017 Afcon finals following the withdrawal of Libya due to political upheavals.
Speaking to reporters on the sidelines of a Hospitality Association of Zimbabwe reception on Wednesday evening, Mzembi said the successful hosting of the December games was key to clinching the 2017 Afcon rights.
"The starting point is here in Bulawayo," he said.
"We need to handle the AU games properly. If we can't host those AU games properly what more the Afcon tournament?
"That is why I pushed for Afcon 2017 just to show you that it's possible for us to host it. If you think we are joking Mbuya Nehanda and the Almighty may smile at us very soon."
To buttress the 2017 Afcon drive, Mzembi said there was urgent need to craft a budget for lobbying.
"The games won't just come easily. An advocacy lobby budget should be in soon for various ambassadors and emissaries to go and lobby and canvass," he said.
The ministry has indicated that hosting the tournament will boost the country's tourism.
The Confederation of African Football (Caf) restarted the bidding process for the 2017 continental championships after conflict-torn Libya withdrew as host because of security and organisational concerns.
Ethiopia has stated its intention to bid for 2017, while Algeria, Kenya, Ghana and Mali have expressed interest. Zimbabwe submitted a solo bid after failing to agree on joint bids with Zambia and Botswana.
The next Afcon will be in Morocco in January and February. Cameroon, Ivory Coast and Guinea will host in 2019, 2021 and 2023 respectively.
Hosting Afcon would leave legacy assets like spruced-up stadiums, roads, hotels and training facilities.
Zimbabwe's stadia include the National Sports Stadium, Barbourfields and Mandava Stadium in Zvishavane while Rufaro Stadium has an artificial turf which needs to be removed.