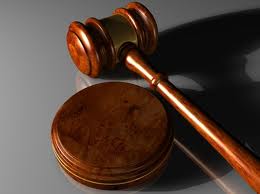 Matabeleland South provincial magistrate-in-charge Reuben Mukavhi has warned police officers against engaging in crime, saying their duty is to uphold the law and not to break it. Albert Ncube Own Correspondent
Mukavhi said this while sentencing two police officers, Brodrick Moyo (27) and Pirate Mazarire (30), who were convicted of stocktheft and criminal abuse of office, respectively. The two had pleaded not guilty, but were convicted after a three-month long trial.
Moyo was sentenced to 10 years behind bars, while Mazarire was sentenced to a wholly suspended six-month jail term on condition he is not convicted of a similar offence within five years.
Mukavhi ruled Moyo was an accomplice in the theft of 10 head of cattle that included an ancestral bull from Phikelela village in Filabusi. The masterminds, Victor Mwene and Tichafa Shumba are on the run.
Mazarire was found guilty of criminal abuse of office after he issued a stock clearance certificate that was used to transport the stolen cattle without physically seeing the cattle.
"Accused one (Moyo) associated with thieves knowing that they were cattle thieves and this is inexcusable," the magistrate said.
"The duty of a police officer is to uphold and not break the law. Indeed the question arises, 'who will police the police?' Accused used a fellow officer in committing the crime. Seven villagers lost their cattle. His moral blameworthiness is high."
Mukavhi exercised leniency on Mazarire saying he had been enticed by Moyo to issue the clearance certificate. In mitigation through their lawyer Thompson Mabhikwa, the two had pleaded for leniency saying they had young families to look after.
However, State prosecutor Getrude Zvidzai called for custodial sentences that would serve as a deterrent measure to all like-minded police officers that crime does not pay.
The court heard that sometime in July, Moyo and his accomplices, who are still at large, connived to steal cattle in Filabusi from a grazing area at Phikelela village and drove them to a secluded place while they organised a forged clearance certificate.
Moyo, who was then attached to the Criminal Investigations Department, influenced Mazarire to clear the cattle without physically inspecting them, as per norm.
The three proceeded to acquire an animal movement permit and transported the cattle to an abattoir in Bulawayo. The manager at the abbatoir, Terrence Hill, became suspicious, as two heifers were among the herd to be slaughtered.
According to the law heifers are for breeding and should not be slaughtered. The 10 cattle, all valued at $5 050, were recovered.
Earlier this year, Wilson Mutazwa, a police officer based in Guyu, was jailed 18 years for stocktheft.
Related Topics