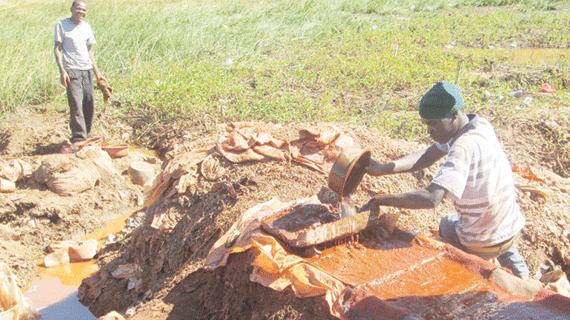 BUBI villagers in Matabeleland North province have cried foul over illegal gold panners, who have invaded their area in the past few months, destroying infrastructure as well as burning foliage.
In an interview with Southern Eye on Friday during a field day held at the homestead of Ward 14 councillor, Cookie Moyo, Bubi rural district council chairperson, Nkosana Moyo said gold panners were giving villagers a hard time and appealed to the government to intervene.
"We have a problem of illegal gold panners and a new breed of gold detectors, who have invaded our villages," he said.
"They are destroying the environment through digging and burning. We tried to report them to the police but they said they could not arrest them."
Moyo said they also engaged stakeholders to find a solution, but this failed, as the artisan miners reportedly had letters from the Mines and Mining Development ministry allowing them to prospect for gold.
"This is painful because they have contributed to the loss of our livestock," he explained, adding that that most of the panners were from outside Matabeleland North province.
Moyo added that villagers were suffering from water shortages due to increased panning activities. He also lamented the poor road network saying this had resulted in a transport crisis.
Speaking at the same occasion, Energy minister, Dzikamai Mavhaire said villagers should avoid veld fires. He revealed that about 25 000 hectares of land has been destroyed by veld fires this year.