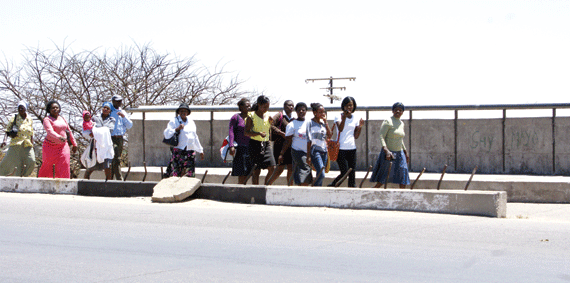 HUNDREDS of commuters were left stranded for the better half of yesterday morning when some government departments, including the Bulawayo City Council, launched a blitz targeting motorists with outstanding tickets for various traffic offences, using a new computerised system to bust offenders. Luyanduhlobo Makwati Own correspondent
The roadblocks were mounted on all major roads that lead into the city centre, resulting in most commuter omnibus operators hiking their fees to up to $2 a trip and driving through undesignated routes, as they fled the checkpoints.
Armed with hitech traffic monitoring systems that scan cars, Zimbabwe Republic Police, the Zimbabwe National Road Authority, Zimbabwe Broadcasting Corporation (ZBC) and the council targeted all motorists, but mostly commuter omnibus operators.
They targeted motorists with outstanding fines and those who have not registered their cars for the new term. The technology recognises number plates and points out all those owing fines.
Motorists with outstanding fines had their vehicles clamped and towed away if they failed to pay on the spot.
While ZBC did its routine check of radio licences, Zinara checked whether all cars were registered properly since the three-month term of registration expired last week.
Dozens of frustrated commuters could be seen desperately flagging down lifts after being ejected from kombis caught in the blitz.
Zimbabwe Passengers' Association secretary-general Albert Ncube welcomed the blitz saying transport operators should adhere to road regulations to avoid unnecessary inconveniences.
"We do not want transport operators to misbehave," he said.
"Council cannot clamp their vehicles for no apparent reason, so they should simply follow council regulations."
"If they have done something wrong, council should arrest them because we want sanity on our roads. They should also desist from overloading because that contributes to road fatalities."
However, Ncube lamented the erection of roadblocks, saying it was as if the authorities wanted to fix passengers.
"They must have proper times of blocking these cars and the problem is that when they launch such programmes, most people who are supposed to be at work end up running late or are forced to fork out more than what they pay every day," he said.
Bulawayo Public Transporters' Association chairperson Strike Ndlovu said he could not comment on the blitz because he had not been informed about it.
The fines range from $5 to $40.
Police also fine commuters $5 for boarding kombis at undesignated pick-up points as a way of curbing lawlessness.
Police inspector Mandlenkosi Moyo said he could not comment on the issue.