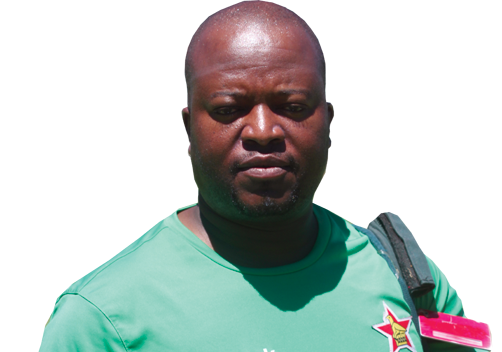 ZIMBABWE national cricket team coach Stephen Mangongo wore a brave face yesterday, declaring his confidence that his team could cause a huge upset when they face a rampant South African side in a triangular series match at Harare Sports Club this morning. HENRY MHARA SPORTS REPORTER
Despite suffering three heavy defeats out of three in the recent one-day international (ODI) series between the two sides, Mangongo said that would not intimidate his players. He actually said the experience in those matches would help his team through.
"We played them less than a week ago and we are comfortable. We just need to take care of our game. We are not worried about the opposition," Mangongo said at a press conference yesterday.
The build-up to this crucial match has been far from the best for the hosts.
They were mauled by Australia in the first match of the series on Monday and their problems mounted on Wednesday when Tinashe Panyangara was axed from the team for alleged disruptive behaviour.
According to reports, the suspension was imposed because Panyangara allegedly shared a video of Mitchell Johnson bowling bouncers in the Ashes of 2013 to 2014.
Mangongo could not reveal who would replace Panyangara, but the slot is likely to be filled by Brian Vitori, Shingi Masakadza or Luke Jongwe.
"It's a very straight forward scenario, if people are doing their job we will have a straightforward line-up and if we are not doing our job, we examine and we look at all possible means available, and all possible available personnel to work with until we get it right – it's simple and straightforward. So that is the reason why we are shifting, chopping and changing because we are not doing the job," Mangongo said.
When asked if his players were not overawed by the occasion of facing the world's best two teams, which could be a reason for their dismal performances so far, he said: "I beg to differ because less than a month ago we played Afghanistan who are an associate team and they beat us so how can one explain that? We were not playing a number one side then, but we lost two in a row.
"The guys are professionals; they have been in the business for long enough. It's a long period since we played Australia, but in other formats we have played and beaten them before so it's not like we don't know what is up with us.
"Less than two years ago they brought their Test attack under the Australian A side ad we played them and we were very competitive, so it's not about being overawed by the occasion or anything. We are number 10 on the rankings and they are number one and two so we have to work as hard as we could to improve and narrow the gap.
We need to improve and compete, but it's not going to happen overnight. We are determined to improve and become a better team."
Hamilton Masakadza, who was Zimbabwe's best performer in the team's annihilation on Monday, said he was prepared for the changes that could be made to the team.
"In any professional sport if you are not doing your bit, if you are not doing your job and not performing, then obviously you can't feel safe about your place. You get out there and do your job then it's the only way you know you are safe.
The top order has been an area we looked at obviously, We haven't done so well against South Africa, so the guys have worked hard and I believe we have a performance around the corner.
"I think whether someone feels they are safe or not that is not something that is starting now, it's something that has always been there. You are never sure if you will be out there the next day unless you have performed and have done your job.
So I think that won't really affect the morale of the team. It's not anything new, but obviously the morale will be a bit down because we have not put the sort of performance that we expected to put out there, so that's the only thing that we need to look at."
Asked to give his thoughts on the game when South Africa chased down a total of 327 against Australia, with the help of heroic centuries by AB de Villiers and Faf du Plessis on Wednesday, Masakadza said: "It was a brilliant game of cricket and what stood out in that game was how positive both teams were, so I think that is one thing we can take a leaf from what they did."
Related Topics