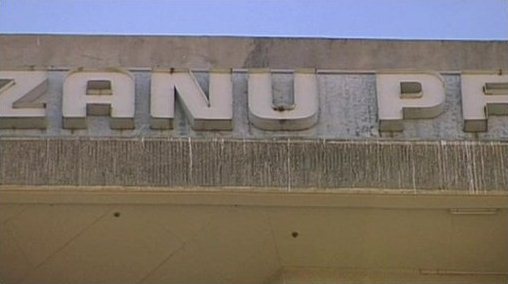 TSHELANYEMBA villagers have accused Zanu PF of hijacking their project during the official opening of a new registry office at Tshelanyemba business centre on Saturday.
SILAS NKALA/ BENSON DUBE
Villagers built a new $18 000 registry office without donor or government input at the business centre in Matobo district and they accused Zanu PF of hijacking the official opening by claiming to have had a helping hand in the project.
Villagers and members of the Salvation Army, Guta RaMwari, Zion and Seventh-Day Adventist churches contributed towards the building of the registry, which was officially opened by Senior Minister Simon Khaya Moyo.
A villager, Lovemore Ncube, said Zanu PF supporters came with Matobo South MP, Soul Ncube, singing party songs and handed over the registry to Khaya Moyo claiming to have been the brains behind its construction.
"We gave the local MP our programme so that he could have a look, but he took it and changed everything to suit his interests.
"We were surprised to hear Khaya Moyo thanking Zanu PF people for having built the office," Ncube said.
"As villagers, we are disturbed with this development because the MP is aware that the office was built by us as villagers.
"We had plans to even build some houses for the registry officials, but with what these people did, it is going to be difficult for us."
Another villager Mavis Maphosa said Khaya Moyo had given them soccer balls instead of building materials.
"The minster is giving us footballs instead of building material. What are we going to do with the balls after hijacking our project and passing it as their own?" she said.
Villagers told Southern Eye that they first mooted the idea of building a registry office in 2006 and its completion was delayed by a shortage of funds as they could not secure any donor or government assistance.
The secretary of the villagers' committee responsible for fundraising and building of the office, Manford Ncube, said the project was planned by churches and villagers from Ward 1-8 in Matobo district to ease the burden of travelling to Maphisa for identity documents.
"Members of the Salvation Army, Guta RaMwari, Zion and Seventh Day Adventist churches as well as villagers all contributed towards this project," Ncube said.
"We have been travelling to Kezi to access identity documents and people were being told to bring witnesses most of the times and that made it expensive to acquire documents.
"So we came together and decided to pool our resources and build this registry office you are seeing today where locals would easily get these documents."
He said although they had handed the office over to the government, the villagers had received no assistance whatsoever from anyone.
"Our registry officials were offered accommodation and rooms to operate from at Tshelanyemba Primary School, but they were being threatened with eviction from the school.
"Although we have completed the office, we have an accommodation challenge for the officials," Ncube said.
"We appeal to those who can assist us construct houses for them as we don't have any more financial resources."
He also said there was no water at the newly-constructed offices and appealed to the government and donors to chip in and help complete the project as villagers had done most of the work.
The co-chairperson of the project Angeline Ndlovu, said each homestead had contributed $2 until they completed the building of the modest office.
"Some of the villagers would sell wares to raise money which they contributed towards this project," she said.