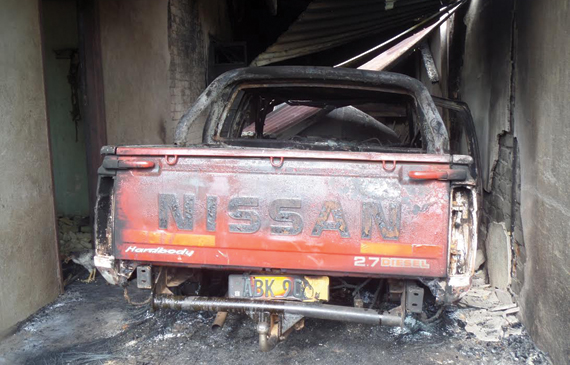 THE BRUTAL attack on Masvingo farmers by war veterans at the weekend is a manifestation of lawlessness that has characterised the government's land reform programme that began at the turn of the millennium.
One of the farmers who was attacked at the Masvingo East farms on Saturday is reportedly battling for his life at Masvingo General Hospital after he was struck with an axe in the head.
Several other farmers had their property set on fire by the thugs who tried to force them out of their land.
The thugs were probably part of mobs that terrorised white farmers with the tacit approval of the government under the guise of empowering black Zimbabweans.
Unknowingly, the government bred a culture of impunity that would haunt this country for a very long time.
Attacks on any farmer whether black or white is abominable, but the disturbances in Masvingo will remove any doubt that those farm invasions that began in 2000 were driven by desperation to manatin the status quo politically.
The country's leadership has been breeding a lawless brigade for political expedience and as demonstrated by the Masvingo attacks, it is not possible to always keep such thugs under a leash once they are allowed to test blood. Zanu PF should move in quickly to reassert its authority otherwise Zimbabwe would be plunged into lawlessness again.
It is almost a fortnight since another group of misfits invaded the Bulawayo City Council-owned Mazwi Game Reserve and police have done nothing to remove them.
Zanu PF has washed its hands despite the invaders claiming allegiance to that party.
Therefore, the events at Mazwi Game Reserve cannot be divorced from what is happening at the Masvingo East farms.
The government and the ruling party should be seen doing something to curb this ruinous behaviour that would have a severe impact on the country's investment prospects.
Police should deal with these people without fear or favour before the cancer spreads.