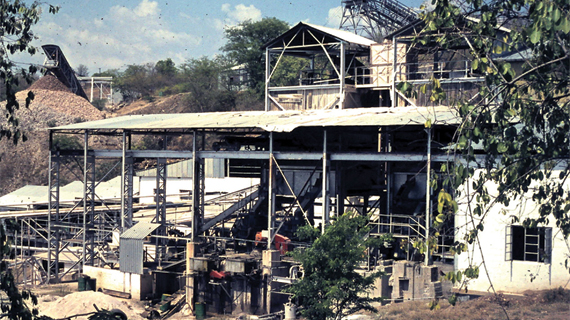 ABOUT 500 Kamativi Tin Mine residents face eviction after allegedly failing to clear rental arrears with the Hwange Rural District Council (HDC) within the set parameters.
NQOBILE BHEBHE CHIEF REPORTER
Residents were given up to Monday to clear all arrears or face eviction.
Affected residents told Southern Eye that they were issued with notices to clear rentals on July 3.
"May you please clear your arrears of amount owed to this council by the 21st July 2014 or risk eviction without any further notice from council," reads part of the note signed by the HDC's acting administration officer Misozi Mvula.
One of the affected residents said there was panic at the mine compound.
"We were given the notice on July 3 and told to clear the debts that range from $50 to as high as $200 per household on July 21.
"We were told that only 70 people are up to date with payments and 500 are in huge arrears," the resident said.
"Failure to clear the arrears would result in evictions. So the affected are in panic mode after the expiry of the deadline."
He added that the evictions were likely to commence tomorrow.
"On Monday, Mvula was telling affected people that he would send a list of paid-up tenants on Thursday to the local board.
"A final decision on eviction would then be made," said the resident. Another resident who identified herself as Mwale, said they would be left stranded once evicted.
"The HDC knows that there is no employment here and people don't have enough money," he said.
"What is worrying is that evictions are happening when we are told that ZMDC (Zimbabwe Mining Development Corporation) is reopening the mine by end of August.
"So who do they want to create employment opportunities for once we are gone?" asked Mwale.
Kamativi, which is rich in tin and tantalite deposits, began operations in 1936, but shut down in June 1994 following a decline in tin prices and falling ore grades.
This was exacerbated by numerous operational problems dating back to the 1990s.
Kamativi is now a ghost town and unscrupulous people allegedly stripped the mine of its assets because of neglect by the government.
Tin mining was a major economic activity in the province and at its peak, the mine produced one million tonnes of the base metal annually, with a staff complement of about 1 000 workers.
The revival of the mine has now been on the cards for some time.