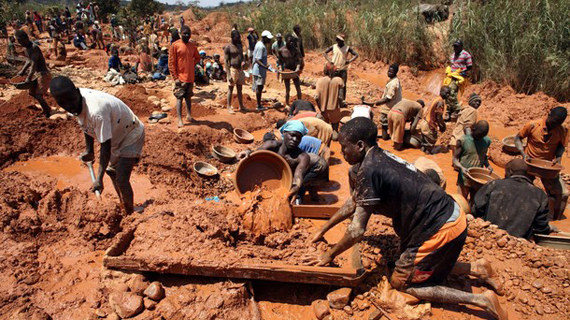 A SMALL-SCALE mining association in Shurugwi has revealed that most of its members were selling their gold on the black market as Fidelity Printers was failing to offer competitive prices.
STEPHEN CHADENGA OWN CORRESPONDENT
Fidelity Printers is a subsidiary of the Reserve Bank of Zimbabwe (RBZ) and the only institution allowed to purchase and process gold in the country.
Shurugwi Small-scale Miners' Association chairperson Isaac Chivendera said the official market was failing to offer competitive prices hence most of his association's members had turned to the underground market.
"It's an unfortunate scenario, but the situation on the ground is that most of the gold from our miners is finding its way across the Limpopo where prices are lucrative," Chivendera said at a provincial environmental indaba held in Shurugwi.
Chivendera urged Fidelity Printers to address the problem of low prices.
"They (Fidelity Printers) should cure the problem and not the symptoms," he added.
The Parliamentary Portfolio Committee on Mines and Energy recently heard that the country was losing millions of dollars' worth of gold to South African buyers who offer small-scale miners higher prices.
In 2013, gold production by small-scale miners fell to 959 kilogrammes from a peak of 17 tonnes in 2004, an indication that most of the yellow metal could be finding its way onto the black market.
An estimated 1,5 million panners, popularly known as amakorokoza and over 30 000 registered small-scale miners engage in gold mining.
Related Topics