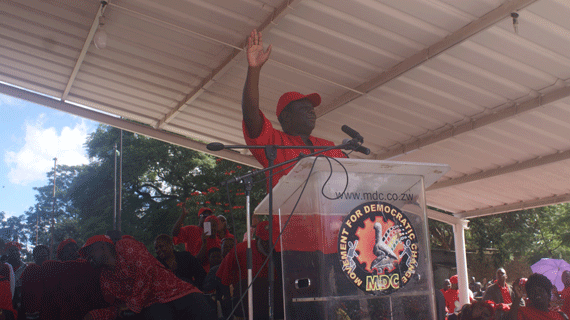 MDC-T leader Morgan Tsvangirai yesterday took a dig at the private lives of the renewal faction leaders Tendai Biti and Samuel Sipepa Nkomo saying the two are not qualified to criticise him for his love scandals.
RICHARD MUPONDE SENIOR REPORTER
Tsvangirai told members at the Bulawayo Small City Hall that he was not averse to criticism, but was against personal attacks.
"If you say Tsvangirai I don't agree with you on this principle, I have no problem with that," he said.
"My problem comes when your fight becomes personal. You spent the whole day saying Tsvangirai and his women. I will ask you, don't you have women also?"
"I told these boys from the renewal team not to be personal, but focus on the issues of principle where we may differ.
"I said if you continue I will tell you that you took someone's wife when you are an elder in the church (referring to Sipepa Nkomo).
"I will also tell you that you left Harare saying you were going to Nyanga, but later got involved in an accident in Chegutu while in the company of a girlfriend (in reference to Biti)."
Biti was in 2010 involved in an accident when his car collided with a lorry near Chegutu.
Sipepa Nkomo in 2009 divorced his wife of 35 years to marry his current wife Roselyn who was a divorcee.
During a recent meeting at Stanely Square, Biti kept referring to Tsvangirai as Gumbura after incarcerated church leader Robert Martin Gumbura.
Gumbura raped a number of women from his congregation, leading to his incarceration.
Tsvangirai has been rocked by a string of love scandals since the death of his wife Susan in a car accident in 2009.
President Robert Mugabe on Thursday said he felt pity for Tsvangirai each time his love scandals were splashed in the media.
The former prime minister said the renewal team should focus on ways to remove Zanu PF from power.
"Mugabe should be pushed out of power not to wait for a miracle to happen," he said.
"He should know that he has no legitimacy. Zanu PF has already reached the dead end. Where will it go?
"They are now saying let's talk. If they come now, we would be a little bit clever. We will start by dismantling their hegemony and then form a new government.
"Last time I think we were a bit foolish by going into a GNU (Government of Nation Unity) without destroying this hegemony. However, we have learnt from our mistakes."
He said MDC-T, which is reeling under power struggles, would emerge stronger from the congress slated for October.
Tsvangirai was in Bulawayo to explain guidelines for the elective congress scheduled for Harare.