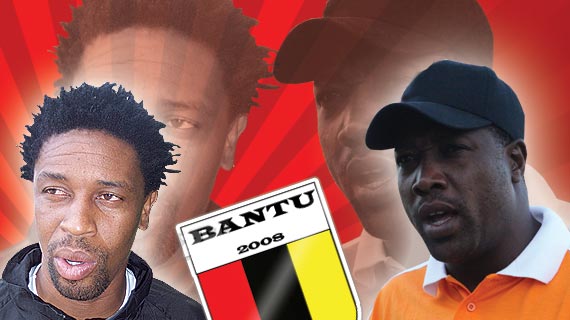 HIGHLANDERS coach Kelvin Kaindu says the practice match they played against South African Premier Soccer League (PSL) side Mamelodi Sundowns helped them to prepare for the Castle Lager PSL tie against Bantu Rovers at Barbourfields Stadium this afternoon.
Sukoluhle Mthethwa Sports Reporter
Bosso played the Absa PSL defending champions who are preparing for the Caf Champions League competition behind closed doors at Barbourfields Stadium on Friday as the PSL did not sanction the match.
Highlanders top the log table with 27 points from 14 games and face troubled Bantu Rovers who are 14th on the standings with 14 points from the same number of games.
"It was a good practice match for us although we lost, but I think it was a good match because it shows us where we are. It's a slight improvement because last time we lost 0-2 but today (Friday) we lost 0-1. We just missed it in the final third where we were making wrong options instead of giving the ball to the guy who was nearer to the goal.
"An international practise match is always good because it exposes your weaknesses playing with a team that is tactically high. They have foreign players and they have got whoever they need in every position. They are preparing for Caf. It was good for us.
"The guys who were supposed to be effective were not very effective. We are happy we have seen what we are doing throughout training we hope it helps us on Sunday (today). In the last 15 minutes we were on top of the game, we commanded and had most possession," Kaindu said.
Bantu Rovers coach Methembe Ndlovu said they are hoping for a positive result.
"It is a derby, but we want to treat it just like any other game because we do not want to put ourselves under unnecessary pressure. We are not in a good position on the log standings so we need to get a good result. We need to start collecting as many points as we can in the coming matches.
"We have won the other derbies (against Chicken Inn and How Mine), but we are not reading much into that. That is history and we are now focusing on the Highlanders match," he said.
Bosso last won the championship when they were still coached by Ndlovu in 2006.
Bantu Rovers will be without Fortune Ncube who is nursing an injury while former Bosso rightback Lawson Nkomo is also out injured.
Highlanders will miss midfielder Welcome Ndiweni who is out on suspension after accumulating three yellow cards.
It is still to be seen if Dumisani Ndlovu and Simon Munawa will feature in today's match as they were pulled out due to injuries against Sundowns.
In Bantu Rovers' maiden appearance in the league in 2009, Bosso beat Bantu Rovers 1-0 before the two sides played a goalless draw in the reverse encounter.
They also played a stalemate in their clash in 2010 drawing nil all before Bosso won 1-0 the same year Bantu Rovers were relegated.