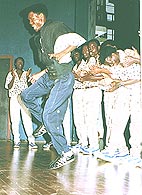 POPULAR imbube outfit Sunduza Boys are back in the music spotlight after a long sabbatical attributed to fierce competition in the industry.
LUYANDUHLOBO MAKWATI OWN CORRESPONDENT
Sunduza, whose founder Simon Banda passed away a few years ago, marked their return to the limelight when they satged a performance at the recent Joshua Mqabuko Nkomo exhibition.
Mpumelelo Banda, the son of the late celebrated imbube artiste and founder of Sunduza Boys who is now leading the group, said they were now resuscitating the imbube genré in the country.
He said Sunduza Boys were working hard to restore the lost glory that imbube had in the past.
"We have been staging performances in various places so that our music returns to the international scene and people begin to appreciate it the way our brothers and sisters used to in the past," he said.
Banda said as a group, they had started approaching up-and-coming artistes interested in their type of music so that the genré does not a die a natural death. He pointed out that imbube closely identified with most people of the southern region.
"We are moving around scouting for young talent that will work with us with a view of reviving the genré. We realised that if we do not do so, this genré will die a natural death," he said.
Banda said the current crop of Sunduza Boys was preparing to make recordings in a bid to keep the imbube genré alive.
The original Sunduza Boys was formed in 1985 during the late Simon Banda's school days at St Bernard's High School in Pumula suburb.
Initially the ensemble was called Sunduza High Stars before it changed to Sunduza Boys after the late Banda and the "boys" completed their secondary education at St Bernard's High School.
The original group worked with high profile artistes such as Majahawodwa Ndlovu, aka Jeys Marabini, during tours to the United Kingdom and other countries in Europe.