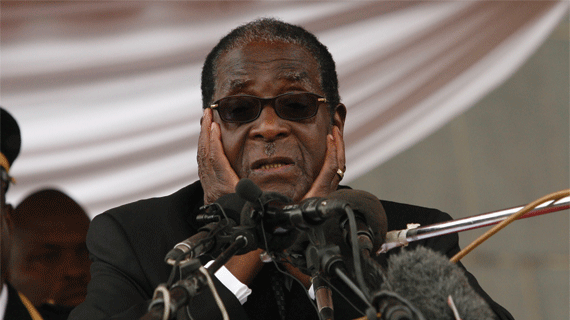 AT LEAST 150 MDC-T youths yesterday defied a police directive barring them from holding a march from Town House to Harare Gardens as they gave President Robert Mugabe until July 31 to deliver on Zanu PF's promises of two million jobs.
MOSES MATENGA STAFF REPORTER
The militant youths, commemorating the Day of the African Child, continued with their march despite the heavy police presence and arrest of their leader Denford Ngadziore on charges of defying the police directive.
The youths said this year's theme "Demanding Accessible, Affordable, Quality Education, Jobs and Equal opportunities for all" was meant to pressure the Zanu PF government to create employment opportunities.
They gave Mugabe until July 31 to deliver jobs or risk civil unrest.
Some 60 heavily armed anti-riot police officers escorted the party activists and later monitored the proceedings from a distance.
MDC-T deputy youth organising secretary Happymore Chidziva said in his address: "From July, we will use all means necessary for us to get our jobs."
"Youths are angry and for 15 years we have been patient with him, but now he must go," he said.
"The month of July is the month of action. On July 31, we would have taken action to make sure he is gone. By all means necessary, Zimbabwe will be free."
Harare provincial youth chairman Shakespeare Mukoyi said Mugabe had failed.
"There is nothing we can demand from this dictator and get because he has nothing to offer except killings, rape and corruption," he said.
"The only thing we can demand from Mugabe and make sure we get to improve our livelihoods is to make sure we push him and Zanu PF out of office.
"If you take it as a joke, I tell you, we cannot move Mugabe an inch from office."
Youth national spokesperson Clifford Hlatywayo challenged Zimbabwean youths to emulate their South African counterparts who on June 16 1976 staged the Soweto uprising demanding their rights.
"They were young just like us. They were poor just like us. They were jobless just like us. They were unarmed just like us. They only carried their banners demanding their rights saying they were not happy with the way their country was being run," he said.
The South African police quelled the demonstrations by firing teargas and live bullets on the students killing several of them.
Commemorations of the Day of the African Child originated from that incident.
"We have problems with getting jobs. We must take action. If Mugabe is our problem, we must take action. If the police trouble us, the solution is action," Hlatywayo said.
MDC-T national youth secretary for security and defence, James Chidhakwa said Zanu PF should deliver on its promises and vowed the youths would fight to defend their rights.
"We have lost a lot of cadrés along the way. We lost Tonderai Ndira, Joshua Bakacheza, Godfrey Kauzani and many others at the hands of Zanu PF. They died demanding their rights to be respected," he said.
"This day we continue to demand our jobs. You made promises. We demand those promised 2,2 million jobs.
"Too much fear brings misery to our land. Let us be bold and demand what is rightfully ours."
Similar commemorations were held in Bulawayo and Chitungwiza provinces over the weekend.