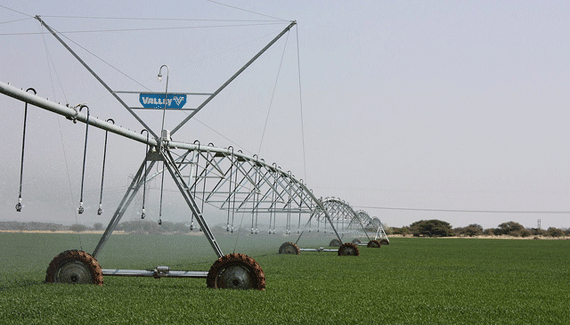 THE recent collapse of Mberengwa's biggest irrigation scheme has taken a new twist with villagers shifting blame on Zesa Holdings and Zimbabwe National Water Authority (Zinwa) to tribalism, gross mismanagement and corruption by the committee that came into office in 2012.
ALLIEWAY NYONI OWN CORRESPONDENT
Farmers at the scheme are baying for the committee's head for the losses they suffered after Zinwa and Zesa cut water and electricity off due to unpaid debts resulting in over 600 hectares of beans being destroyed.
It was alleged that while a large chunk of farmers were paying their monthly bills, the committee led by Ngonidzashe Shoko from the Mapiravana clan was reluctant to pay the authorities their dues under unclear circumstances.
The Shoko-led committee came into power two years ago allegedly through a coup that sought to remove the Masarira (Lembas) and Mudavanhu people from the scheme established in 1994 to benefit people from the three chieftainships of Masarira, Mudavanhu and Mapiravana.
According to some of the scheme's farmers, Shoko and his committee effected a coup against the previous committee led by Chirandu Moyo and Fungai Nkomo after they had revived the irrigation. Shoko argued that the scheme was on land belonging to the Mapiravana clan, hence it should be controlled by them.
After taking office, the committee introduced a new administration fee of $5 in addition to the $25 for power and water that every member was paying. The previous committee had managed to clear all Zesa and Zinwa bills.
A Zinwa official revealed that Shoko and his committee failed to pay water bills from the day they took office until on May 21 this year. He said they only made a payment of $1 001 after Zinwa had disconnected them for a two-year $27 000 outstanding bill.
"Since taking over power, the current committee never bothered to pay water until we disconnected services and you wonder why they wanted to put blame on Zinwa for the scheme's collapse.
"This is clear mismanagement on their part," the Zinwa official said.
Unlike the Nkomo-led committee that had teachers and agricultural experts, the current committee is packed with people who cannot read or write.
Ward 12 councilor Trust Shava said the problem was that the committee was not using the scheme's constitution. "If they were using the scheme's constitution things would have been better. It stipulates that if a farmer does not pay for two months, two warnings are given and the third time he/she is evicted to allow those who can afford," Shava said.
Another farmer Tomupeyi Zhou said Shoko was not even making payments and there were no routine meetings and audits to check the progress of the scheme as stipulated by the constitution.
"He (Shoko) is not even paying his bills and there are no checks and balances on how the scheme is being run. The only communication we received was that Zesa had cut power over a $60 000 debt," Zhou said.
The scheme's former chairperson Fungai Nkomo said there was unfair distribution of fertilizers and some of it was embezzled during the process.