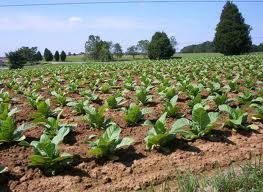 TOBACCO Industry and Marketing Board (TIMB) has urged all golden leaf farmers to destroy tobacco stalks as a way of reducing carryover of diseases and pests in the next farming season.
OWN CORRESPONDENT
In a statement, TIMB said those farmers who fail to comply with their order will face prosecution.
"All tobacco farmers are reminded that the Plant Pests and Diseases Act requires that all tobacco stalks be destroyed by 15th of May of every year. Destruction of stalks helps reduce carryover of diseases and pests. This is most effective when tobacco stalks are destroyed immediately after the final harvest," part of the statement reads.
"Tobacco growers who fail to destroy tobacco stalks should be reported to Department of Research and Specialist Services, Agricultural Technical and Extension and Tobacco Research Board or TIMB," the statement continues.
TIMB said those contravening regulations requiring the destruction of tobacco plants by a specified date or prohibiting the planting of tobacco plants between specified dates, will be subjected to a fine not exceeding one hundred dollars for each hectare or part thereof in respect of which the offence is committed or to imprisonment for a period not exceeding one year.
At the beginning of the marketing season, TIMB warned farmers against nesting which is placing good quality tobacco on the top of the hogshead and bad quality at the bottom or deep inside to conceal trash or inferior tobacco from the buyers and farmers normally do it to increase weight of the bales.
The practice attracts a penalty of $20 per bale or imprisonment for one year or both.
During the previous selling season, over 46 000kg of tobacco were reportedly forfeited to the TIMB after the bales were confiscated for tobacco nesting.
This season tobacco industry has so far raked in $433 million from the sale of 135 million kg of the golden leaf, but the sector is facing curing facilities challenges.
TIMB chairperson Monica Chinamasa told the Parliamentary Portfolio Committee on Agriculture, Lands and Mechanisation recently that they have since engaged the Tobacco Research Board to come up with rocket bands for curing purposes.
They also revealed that a rocket barn fund will be rolled out to conserve forests and try to reduce deforestation caused by tobacco farmers.
Tobacco farming has since gained momentum in the Matabeleland region with farmers now venturing into it thereby raking in millions of dollars.