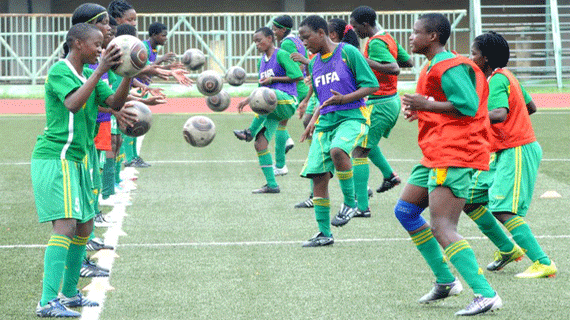 ZIMBABWE'S chances of qualifying for the 2014 Namibia Africa Women's Championships (AWC) hang by a thread after Zambia claimed a crucial away victory in the final round first leg match at Rufaro Stadium yesterday.
HENRY MHARA SPORTS REPORTER
Zimbabwe . . . . . . . . . . . . . . . . . 0 Zambia . . . . . . . . . . . . . . . . . .(0)1
A second-half goal by Zambia's Hellen Mubanga meant the Mighty Warriors will have to score two goals in the return leg in Lusaka in a fortnight's time to qualify for the finals this October.
Mubanga poked home on 64th minute after a quick counter attack by the Zambians.
Assistant coach Yohannes Chikaola who was in charge of the Mighty Warriors in yesterday's game standing in for coach Rosemary Mugadza who lost his brother on Saturday, said Zimbabwe still stood a good chance of making it to the finals.
"The match is not yet over. What we did wrong here is that we were complacent; our reaction was slow, we were always second to the ball. I think we underrated the Zambians so we lacked concentration and we were punished," said Chikaola.
The loss also came at a cost for Zimbabwe as two regular players hobbled off the match and will now race against time to make the trip to Lusaka.
Left-back Ruvimbo Mutyavaviri lasted just over 20 minutes and striker Rutendo Makore was carried off the pitch with seven minutes remaining of regulation time.
Shepolopolo Queens coach Charles Bwale believed her side had put one leg into Windhoek.
"Before we came here our objective was to get a draw and possibly just to score a goal and I think we have done it," he said.
"But if I look at the Zimbabwe team they have a very good side and they gave us a good challenge and I should praise my girls I think they have done a good job. Zimbabwe have been at the Afcon twice and we have never been there so beating them here gives us the motivation to try and qualify when we play the return leg," he added.
The Mighty Warriors came into the match as huge favourites to win after the two teams' last meeting had ended with Zimbabwe comfortable 4-1 winners.
But they were just poor yesterday and they should be lucky that they will travel to Lusaka looking to overturn just one goal.
They struggled to get hold of the ball, giving it away freely, and while they upped the tempo after they had fallen behind, they were never a genuine threat to the Zambians.
So poor were the hosts that their first real chance at goal arrived after 54 minutes when Felistas Muzongondi found substitute Mavis Chirandu on the left with a diagonal pass whose cross was guided just wide by Kudakwashe Bhasopo.
Zambia could have taken the lead on 63rd minute when the menacing Kabange Mupopo ran clear, but scooped her effort over.
But a minute later, they were celebrating a goal. A quick counter attack left defender Patience Mujuru facing three forwards and when the ball was released by Misodzi Zulu, Mubanga was the faster of the two strikers who had lined up on the blind side to prod the ball home.
The Mighty Warriors had good chances to equalise and probably win the match, but their finishing was just pathetic.
Rudo Neshamba had the two best opportunities in the last minute of the match, but she wasted both. First, she blasted her effort over before heading straight to the visitors goalkeeper moments later.
Zimbabwe: C Dzingirai, P Mujuru, M Musasa, R Mutyavaviri (M Chirandu), N Majika, E Msipa, M Nyaumwe, F Muzongondi, K Bhasopo (R Neshamba, 60'), R Makore (T Mandaza, 83'), N Ndlovu . Zambia: H Nali, K Mupopo, M Banda, e Musonda, A Kibanji, A Mutenga, S Banda, M Mwakapila (M Sosala, 53'), H Mubanga, M Zulu, L Chisamu.