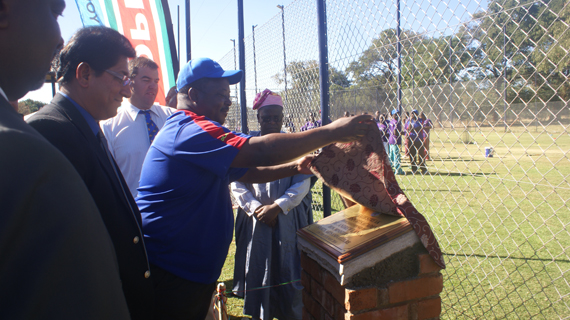 THE much—acclaimed Heath Streak Multi-Sports Academy was launched at Bulawayo's MacDonald Sports Club yesterday.
SUKOLUHLE MTHETHWA SPORTS REPORTER
Streak, a former Zimbabwe international cricket all-rounder and captain said the academy would not focus on cricket only, but include other sporting disciplines.
"When I was young my biggest dream was to play for Zimbabwe. The future of Zimbabwe and for our cricket is to make sure that some of us who have had that privilege can impact the next generation because they are the future," he saud.
"Sport unifies. Kids do not look at colour or where one is from they just want to play sport. Sport in Bulawayo has taken a little bit of a back seat against Harare for obvious reasons. But I am very privileged and proud that we have been able to do this in Bulawayo. I thank the corporates who have been mentioned for their support. It is great that Bulawayo where I am from where my heart is can have such a wonderful facility and hopefully we can build on it.
"Our vision for a multi-sports academy, obviously cricket, is my priority, but we have other sports rugby, swimming, indoor soccer, indoor hockey facility that we want to grow. We have the gymnasium that will be utilised by all the participants that will come here in the future," he said.
Streak welcomed the support he has been getting from various stakeholders.
"The future is bright, but without everyone's support we would not be where we are. Things are tough in Zimbabwe, but people have dug dip to support us. I will always cherish that," he said.
He said they will try and emulate the High Perfomance Centre in Pretoria, South Africa.
Sport, Arts and Culture minister Andrew Langa who was the guest of honour said he was proud to be part of a significant event in the city.
"It is not a secret that Zimbabweans love good sport, but sadly have to consume mediocre if not poor local sport. Our teams are like tea-bags they do not stay long in the 'cup' of international competitions. We have to acknowledge our collective responsibility in all this and boldly face the challenge with head on to resolve it," he said.
"Sports is part of Zimbabwe's exclusive industries. This is so because of lack of sound grassroots sport development programmes and infrastructure. We as a nation are keen to get to the top in international glory yet we miss the early stages of developing sport," he said. Langa added they would support new academies that would also come up.
"The Heath Streak Multidisciplinary Sport Academy should be the first in a number of academies that should be developed in the nation.
"We will certainly support them. We still need more developments in the former country clubs where some have turned golf courses into either grazing land or some potato plantations," he said.
Former national team players Raymond Price, national team player Sean Williams, businessman Raj Modi, chairman of the academy Elifasi Mashaba and chief executive officer Joseph Rego, Sport and Recreation (SRC) board chairman Joseph James and Bulawayo Metropolitan Province SRC co—ordinator Sam Dzvimbu and former Sport minister David Coltart were some of the dignitaries that graced the occasion.